Savio celebrates century with great technological achievements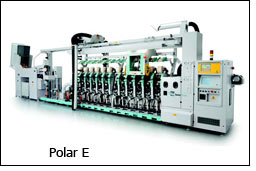 Savio Macchine Tessili is a company that for 100 years has played a major role for the development of Italian textile industry in the world. Founded in Pordenone, North East of Italy, in 1911 by the entrepreneur Marcello Savio as a workshop for the production of textile components for the local industry, is today the world leader in the field of yarn finishing machines.

Savio now operates worldwide in the production and marketing of automatic winders, two-for-one twisters, and rotor spinning frames with manufacturing plants in Italy, China and India. This evolution was accomplished in time by taking as a point of reference the research and development, a strong orientation to the maximum production flexibility and to maintain high quality standards.

This focus has resulted in a very strong driving force that led the company to realize an evolved production system to respond quickly to the demands of the textile industry worldwide. A certified quality system ISO 9001-2008 permeates the company as a whole, offering the market a wide range of increasingly advanced textile machines with excellent performances and high reliability.

This market approach also extends to the network of partner companies spread worldwide, identifying Savio as a company constantly close to customer needs. Savio can count on a direct commercial presence in over 60 countries worldwide, on service and on-site maintenance, technical training and courses for customers technicians. Global dimension, flexibility and manufacturing excellence are the main assets for a strategic leadership that will renew over time.

The design solution for Savio stand in occasion of ITMA 2011 answers to two specific challenges: first, the need to highlight, emphasize and communicate the anniversary of 100 years; secondly the desire to express, through the architecture of the booth, the core qualities of Savio and its products, which is a mix of performance, quality, attention to detail, innovative solutions, solidity and durability, making it a leader in its field.

We have taken the occasion of the centenary to architecturally create a booth as an element of attraction able to go beyond a simple graphic logo. We then decided to materialize these 100 years and make them become a special place, inhabited and habitable, serving at the same time as an exhibition space, a support structure and an element of recall. The centennial logo, appropriately magnified, becomes an architectural element. Overall, the stand is very dynamic, with machines outgoing from the "100", especially to signify that they are born from a long experience and that are made of great technological achievements.

POLAR E automatic winder with automatic bobbin feeding and automatic package doffing:
Ring spinning frame bobbins are loaded into the hopper tank and then placed on the Flexitray (peg) to be transferred to the preparation station. Each bobbin placed on Flexitray is automatically moved to the "yarn finder station". This station prepares the bobbins for the following winding process. All the above mentioned operations are automatically made and "operator free".