DSM completes buyout of UHMWPE fiber producer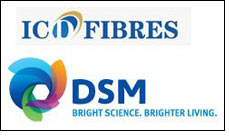 Royal DSM N.V. announced that it has successfully completed the acquisition of a majority share of 91.75% in Shandong ICD High Performance Fiber Co. Ltd. (ICD), based in Laiwu, Shandong province, China, as announced on 17 February 2011. Financial terms of the acquisition are not disclosed.

ICD is a manufacturer of UHMWPE (ultra high molecular weight polyethylene) fiber and a strong player in the high-performance fiber market in China. The acquisition brings complementary manufacturing and technology assets to DSM and substantially strengthens the company's presence in this key market.

Nico Gerardu, member of the DSM Managing Board and responsible for DSM's Performance Materials cluster, commented: "We are delighted to have completed this acquisition and we welcome ICD to DSM. This acquisition reflects our continued commitment to China and our strategy of investing in High Growth Economies as well as in partners with proven success and high growth potential."

Gerard de Reuver, President of DSM Dyneema, added: "China is a major market for UHMWPE fiber production and consumption. This acquisition marks a milestone in the global development of DSM Dyneema and provides a stronger platform for continued growth and leadership in the China market."

Ren Yi, General Manager of ICD, said: "We are excited to be joining DSM and believe this will secure long term success and growth for us in China. Our local knowledge together with DSM's global standards and expertise will help improve our customer service and boost market and application development opportunities."

Royal DSM N.V. is a global science-based company active in health, nutrition and materials. By connecting its unique competences in Life Sciences and Materials Sciences DSM is driving economic prosperity, environmental progress and social advances to create sustainable value for all stakeholders.

DSM delivers innovative solutions that nourish, protect and improve performance in global markets such as food and dietary supplements, personal care, feed, pharmaceuticals, medical devices, automotive, paints, electrical and electronics, life protection, alternative energy and bio-based materials. DSM's 22,000 employees deliver annual net sales of about €9 billion.

Royal DSM N.V.