STM expands capabilities to fill void in textile machinery market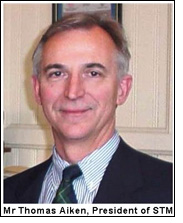 Need a new tenter cross screw? How about a pair of tenter bronze split nuts? The U.S. textile industry is losing productivity because these types of machinery components are wearing out…and readily finding replacement parts could be tough.

To fill this potential void, Southeastern Textile Machinery, Inc. (STM) has acquired the assets of Gessner Industries/Winsor & Jerauld, America's oldest manufacturer of tenter frames. The acquisition positions STM to provide the most comprehensive line of tenter products and services in the U.S.

"The American textile industry is rebounding with continued overall sales improvements. Companies are looking to increase capacities and need reliable sources for equipment upgrade, repair and replacement," said Thomas Aiken, president of STM. "Our acquisition of the Winsor & Jerauld brand and related technical files, services and expertise positions us to support the new American textile production paradigm of efficient, quality throughput and quick turnaround. And we expect to increase employment with this acquisition, which will help the overall American economy as well," says Aiken.

In addition to finished parts inventory, STM acquired 115 years of Winsor & Jerauld (W&J) patents, engineering drawings, company service records, resources and knowledge of tenter solutions. The W&J Division of STM will honor quotes submitted by Gessner Industries/Winsor &Jerauld.

Tenter frames are used throughout the textile, plastics and nonwovens industries to treat and dry fabrics while adjusting material width. Materials are held firmly at the edges by clips or pins; mounted on two parallel circular chains that are powered along rails by a structural drive unit. Founded in 1896, Winsor & Jerauld (W&J) is the oldest continuous American tenter frame brand. W&J tenter frames are used extensively throughout the textile, plastics, nonwovens and coating/laminating industries

"Through the years the W&J brand has stood for quality, durability, performance and service. We've provided unique tentering solutions and have expanded to service a variety of tenter brands, doestic and foreign, with specialty, hard to find parts," says Walter M. Hoover, previous owner of the Winsor & Jerauld brand. "As far as we know, W&J is the only U.S. source for complete tenter service and parts, new and used. STM will now carry the W&J tradition and torch of being America's single-source solution for tenter needs," says Hoover.

Aiken points out that a recently released forecast by the Institute for Supply Management suggests that in 2011 textile and apparel firms will achieve overall sales gains for the second year in a row. The report, as referenced in Textile World's Mid-year Appraisal - also indicates that these industries will actually be looking to increase capacity and production potential. "This supports what we're seeing in the market place and the direction of our company. We're now positioned as acontinuous resource for quality American products to help the American textile industry recover," says Aiken.