Shri Anand Sharma inaugurates Dastkar Craft Mela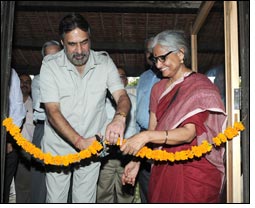 The Union Minister for Commerce, Industry and Textiles, Shri Anand Sharma inaugurated the special exhibition based on the theme Camel in Craft at the Crafts Museum & Dastkar. Speaking on the occasion the Minister said that "it is important that cultural heritage of the country should be preserved by all possible means and initiatives like the Craft Museum should be supported." He also instructed the officials to find ways to improve parking in the ITPO area in general and Craft Museum in particular.

Crafts Museum & Dastkar are celebrating the theme Nature & Camel during the 19th Dastkar NATURE BAZAAR. The Bazaar is being held at Crafts Museum, Bhairon Marg, Pragati Maidan, Delhi from 8th October 2011 to 19th October 2011, from 10:30 AM to 7:30 PM. Participating during this seasons Nature Bazaar, will be over 160 crafts groups belonging to 20 states, from across India, showcasing and selling indigenous Arts, authentic to their respective regions. Visitors will also see workshops and cultural performances along with Special food stalls from different states.

Laila Tyabji, Chairperson Dastkar said "Helping us in showcasing the real Indian Craft there are many new Groups bringing forward new and real Indian Art. This time, along with special Camel products, the new arts and crafts include Ajrakh Prints, Bandhani, Kavad and Pichwai Paintings from Rajasthan to the Bazaar. People will always find us interesting because of these new introductions".

The Dastkar theme stall highlighting the "Camel" will exhibit special products inspired by the made from the animal during the entire exhibition With Camel as the theme for this year's Nature Bazaar the Crafts Museum is also organizing a special exhibit of "The Camel in Craft" in the special exhibitions gallery 1, from 10 am to 5pm except on Mondays. New attractions will also include special products, made by craftspeople, on The Camel including Products from Camel Wool, Camel Dung & Camel Milk.

Helping people understand and learn the intricacies of traditional craft, running throughout the day, the enlightening Dastkar crafts Workshops will again be the highlight this year. People participating will also be allowed to take what they make during the workshop.

These workshops include Bead Products by Agaaz, Sanjhi Craft by Mohan Kumar, Basket Weaving by Om Prakash Bind (Uttar Pradesh), Paper Products by Haathi Chaap & Putul Craft by Sheela Choudhury (Delhi), Madhubani Painting by Shiva Kashyap (Bihar), Terracotta Pottery by Samalie Terracotta (Orissa), Paper Bags by Lakshay Badhte Kadam (Haryana), Gourd Decoratives by Jagat Ram Devangan (Chattisgarh), Clay Modelling by Ochre & Bead Work by Sahaj from Gujarat, Painting with Natural Colours by Avani (Uttrakhand), Phad Painting by Kalyan Joshi (Rajasthan).

For those interested in viewing, experiencing and gaining knowledge of the craft, Nature Bazaar will also have all day long demonstrations by Artisans showcasing how their particular crafts is done which include Mat Weaving by Akhil Kumar Jana (West Bengal), Gourd Decoratives by Jagat Ram Devangan (Chattisgarh), Pattachitra by Apindra Swain (Orissa), Ari Embroidery by Kiran (Kashmir), Paati Ka Kaam by Nuzahat Zari (Uttar Pradesh), Gond Painting by Ramesh Tekam (Madhya Pradesh), and Candle Making by Aurodhanam (Tamil Nadu).