CITI organises Cotton Farmers Meet in Bhilwara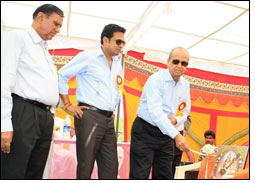 Confederation of Indian Textile Industry (CITI) through its Cotton Development and Research Association (CDRA) organized a farmers meeting in Bhilwara, Rajasthan on 19th October 2011. Shri P.D.Patodia, Chairman of CITI's Standing Committee on Cotton presided over the function and Shri Mukund Choudhary, Vice Chairman of CITI was the Chief Guest. Over 2000 cotton farmers from Bhilwara, Banswara and other nearby districts of Rajasthan attended the meeting. Representatives of spinning mills, ginners and cotton traders were present in large number. Scientists from RVK, Bhilwara and Banswara and officers of the State Government's Agriculture Department were among the participants.

Shri P.D. Patodia in his welcome address highlighted the work done by CITI- CDRA during the past four years in Rajasthan, including the Frontline Demonstration Programme implemented in about 1500 villages for dissemination of production technology and integrated pest management practices. Government of India's funds of nearly Rs. 50 lakh were utilized for implementing the programme, including import subsidy of Rs. 1400 per cotton farmer. Referring to the likely cotton production of 355 lakh bales in the current cotton season, he complemented the cotton growers of the country for enabling the country not only in achieving self sufficiency in cotton production but also providing sufficient quantity for exports.

He however, pointed out that cotton yields in India were still much below the world average of over 750 kgs per hectare and there was an urgent need to improve them. He appealed to the cotton growers to replicate the example of Gujarat which has achieved the high cotton production of over 103 lakh bales in 2010-11 as compared to about 39 lakh bales in 2002-03.

He complemented the State Government of Rajasthan for encouraging drip irrigation by liberalizing norms for subsidy. Shri Patodia also highlighted the work done under the collaborative cotton project being implemented by CITI-CDRA for the past four years in association with State Government of Rajasthan and Bayer CropScience, Mumbai covering 50000 acres involving over 37000 cotton farmers. Sharing Brazilian cotton success story, he appealed to the cotton farmers to ensure adequate plant population and adopting high density planting system for improving yield.

Shri Mukund Choudhary, Vice Chairman, CITI in his address pointed out that Bhilwara wasg the spinning hub of Rajasthan selling huge quantities of cotton yarn to all important destinations, both domestic and overseas and therefore improvement in cotton production in these districts assumed considerable importance. He stressed the need for strengthening the linkage between cotton growers and the textile industry as it was beneficial for both of them. In this context he explained that CITI had persuaded Government of India to associate all the stakeholders in implementation of the Technology Mission on Cotton and CITI-CDRA thus could do useful work for farmers under Mini-Mission II of TMC for the past seven years. Initially, CITI-CDRA worked for three years in Maharashtra and for the past four years, it was working in Rajasthan for the benefit of cotton farmers.