New York cotton futures slip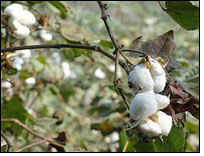 NY futures gave back nearly all of last week's gains, as December dropped 620 points to close at 98.12 cents.

In our last report we mentioned that the futures market would only be able to maintain an upward trajectory if there was a noticeable improvement in the physical market. Unfortunately that has not materialized, which is why this latest selloff shouldn't come as a surprise to the trade.

Even the Chinese market, which has been a pillar of support over the past few months, has started to show some cracks recently. The arriving crop is pressuring local prices and it was reported that farmers are selling their seed cotton mainly to gins that are able to press standard sized bales, which is a requirement to be eligible for Reserve auctions, while many of the smaller ginners are currently reluctant in procuring cotton since they can't make the numbers work in the cash market.

Support therefore hinges mainly on the Chinese Reserve's willingness to absorb cotton from the marketplace and judging by this week's activity they were definitely stepping in. After procuring nearly 138'000 tons since last Thursday, the Reserve has now taken up a total of 218'030 tons or 1.0 million statistical bales. The daily auction target has also been increased, amounting to 64'000 tons today, which is nearly double of what it was a week ago.

This signals that the Reserve is ready to shore up the local price in order to keep farmers content, otherwise they may consider a switch to grains next season. There is already anecdotal evidence that cotton acreage will drop in some of China's eastern provinces next spring. The Reserve seems to be in the role of counterbalancing volatility by supporting farmers via its auction mechanism and then standing by to release these stocks again in case the market rallies to a level that inflicts pain on the local textile industry.

As we have pointed out before, the only way this Reserve support is going to reach the international market is via imports, either through quotas or by the Reserve buying cotton directly overseas. To what degree and when that may happen is still anybody's guess. However, we feel that unlike in years past, the Reserve may take a much more dynamic approach when it comes to managing its stocks, trying to strike a balance between building new stocks and allowing additional imports.

Today's US export sales report was considered a disappointment, since only 96'600 running bales net were added last week, although there were an additional 78'400 running bales sold for the 2012/13 marketing year. Turkey was by far the best buyer last week, booking a combined 132'400 running bales. What's worrisome is that cancellations are still widespread, with a total of ten markets cancelling no less than 44'200 running bales.

Also, shipments of just 90'300 running bales continue to lag behind and with over 5 million bales already classed, we can't blame the lack of available bales for the slow pace of exports anymore.