"Focus on adding value rather than volume"- Amit, Jindal Group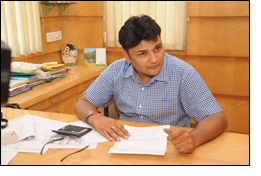 The main office building of the Ahmedabad-based Jindal Textiles Group is aptly named 'White House'. It may not be as imposing as its namesake in Washington DC, but the outside look closely resembles the famous building and stands between huge manicured lawns.

I am here to meet Amit Agarwal, the third generation scion of the Jindal family. All of 34 years, Amit still retains a boyish look. His personal office is huge; a rarity in big cities and one side of the wall is lined with books on various subjects.

He has an illustrious lineage. He is the son of a doctor couple. His father – Dr Yamunadutt Agarwal was a gold medalist while in college and also a renowned physician, before the call to join the family business came. His mother is still a practicing gynecologist and is attached with prestigious hospitals in Ahmedabad.

Amit did his schooling from St Xavier's School in Ahmedabad. Completed his Bachelors in Management from KS School of Management and post-graduation from KATZ University – Pittsburg – USA, majoring in finance.

While in school and college, he was a sports freak, a pastime which he has not been able to pursue wholeheartedly, ever since he joined the family business way back in 1999. He has represented the Ahmedabad District team at the state level in hockey. However, he still loves to play a game of squash, as and when time permits.

He is married to Deepti and they have a 3.5 year old daughter – Samaira. He does not prefer to tweet, but at the same time is very outgoing and loves to stay in touch with friends and family either in person or by phone.

While growing up, there was a lot of stress on education, considering that both his parents are doctors. He stands up for honesty, sincerity and spirituality - values ingrained by his family. He says with conviction – "If you have the will, it is not difficult to be honest in business".

The biggest quality he admires in his father and would like to inculcate is to never be stressed out. According to the senior Agarwal, a stressful and tense situation leads to wrong decisions. Amit also wants to be fair, generous and be a good human being like his father. His father also always reminds him to never loose hope, as when you give up, you end up loosing everything.

The foundation of the Jindal Group was first laid in 1976, when Amit's grandfather set up a fabric processing unit. In 1986, they started printing and processing of bedsheets for third party exports. In 1989, they started home textiles exports of their own and were among the first in the country to venture in to home textile exports in that period.

Since 1989 and till 2003, focus was solely on home textiles exports. In 2003, they backward integrated and set up a weaving plant, which was followed up by setting up a denim fabric manufacturing plant in 2005. After 2005, they started weaving bottom weight fabrics. Alongside the denim capacity was also increased and a yarn dyed shirting unit was also set up.