Unique USP's turn Mangalore SEZ into an ideal destination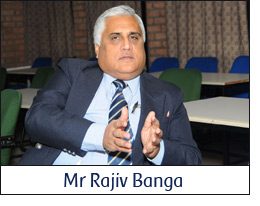 "We are setting up a notified sector specific Special Economic Zone (SEZ) for Petroleum & Petrochemicals, also covering manmade fibre textiles industry in Mangalore, which provides the flexibility of catering to both global & Indian markets, by just meeting norms of net positive foreign exchange (NFE) over a five year period", a top official of Mangalore SEZ Ltd (MSEZL) told fibre2fashion.

Speaking exclusively with fibre2fashion on the sidelines of the International Conference on Manmade Textile Fibre Textiles, Mr Rajiv Banga, MD & CEO – MSEZ said, "MSEZ is co-promoted by ONGC, Karnataka Industrial Area Development Board – a Karnataka State Government entity; IL&FS, a leading financial institution & infrastructure developer and Kanara Chamber of Commerce and Industry".

He added, "ONGC, in a joint venture with MRPL, is setting up an aromatics complex in MSEZ with a capacity to produce around one million tons of paraxylene and 275,000 tons of benzene, which will prove to be a ready source of feedstock for future projects in intermediate & downstream textile sector in the SEZ".

Elaborating on the same, he explained, "Typically in the petrochemical production chain, cost of raw materials account for 70-75 percent of the production costs. Proximity to feedstock can give a cost advantage of up to 6-7 percent which, in the long term, can prove to be a huge head start for a potential investor in the SEZ".

Highlighting the locational advantages of the SEZ, he said, "Mangalore has excellent connectivity by way of three National Highways connecting it to various parts of India coupled with many State Highways. The Railways also provide connectivity to different regions throughout India through the Konkan Railway and Southern Railway network".

"Alongside, Mangalore port has a 15 metre deep draft and is an all weather port, located just 8 kms away from MSEZ, which means shorter turnaround times for goods. In addition, it offers close proximity to the Middle-East region on the West coast of India for cost effective sourcing of required inputs. Mangalore also has an international airport. All these put together provide the SEZ with one of the best locational advantages".

Informing about the Unique Selling Proposition (USP) & salient features of the SEZ, he said, "The SEZ is offering the USP of a dedicated pipeline-cum-road corridor connecting the SEZ and the port. Ships can directly pump liquid raw materials through this pipeline to the storage tanks in the SEZ and vice versa as well as goods can be transported to and fro, again leading to shorter lead times.

"Another key requirement of petrochemical plants is availability of water in huge quantities. We are setting up water infrastructure to supply 35 million gallons of water per day, by setting up four barrages on the rivers adjoining Mangalore and a pipeline conveyance system of over 42 kms to the SEZ. We are also setting up a Central Effluent Treatment Plant, which offers cluster benefits & negates need for individual plants.