Industry leaders enjoy IFAI Expo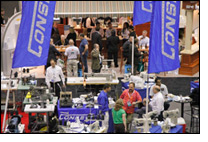 IFAI Expo Americas 2011, the specialty fabrics industry's top-performing trade event in the Americas, hosted 5,066 registered participants from 43 countries at the Baltimore Convention Center, as the industry gathered at the largest industry showcase of products, knowledge and accomplishments.

The strength of the specialty fabrics industry was on display at the Industrial Fabrics Association International's signature Expo Americas trade show. This is an industry that runs on innovation, and the trade show floor buzzed as 340 top companies from 18 countries exhibited the latest in fabrics, fiber, films and chemicals, end products, components, equipment, and technology services. IFAI Expo Americas' well-known breadth enables connections to be made throughout the industry's value chain.

Feedback was that the quality of attendees was very good, and exhibitors made numerous new contacts with customers. Howie Granat, Granat Industries, Inc., was pleased with the buyer attendance: "It's been another fabulous year. We've been exhibiting for 15 years and we scanned the most ever on the first day. Our average is 40 leads, and this year we scanned 60!"

According to Dale Spuzzillo, national sales manager and north central sales manager for Nice USA Inc.: "IFAI Expo Americas 2011 was a great show for us....We had very heavy traffic in our booth the full three days. Not only did we see many new customers, but we also had excellent meetings with many major manufacturers at this show."

Export executive Yadira Moreno, Sinteplast, Grupo Piessa, Mexico, said, "We've been participating in IFAI Expo Americas for 12 years. It's the most important show. We meet the best clients, very knowledgeable buyers, at this show."

Educational sessions were strong value-add
IFAI Expo Americas continues to demonstrate its leadership in specialty fabrics education which allows attendees to earn CEU credits. Some of the best-attended programs included the Fabric Structures Symposium, which presented a practical approach to LEED and CSI fabric structure certification. This high growth area was overviewed by speakers from the U.S. Green Build Council (USGBC) and the Construction Specifications Institute (CSI).

IFAI's hallmark trade show benefit is delivering information fabricators can use when they get back to the office/factory, and over 100 people attended a specialized program of industry demonstrations on the show floor, where they were able to see up-close machinery demos from eleven manufacturers. In total, IFAI Expo Americas 2011 presented 80 educational program speakers, 65 educational sessions; and 35 demonstrations.

Some of the most intriguing presentations were in the Tent Symposium and the Fabric Graphics Symposium. The new developments in these areas included a presentation on how to apply solar film onto tents to generate power for lights, etc.; and the Fabric Graphics session showed the audiencehow to integrate their graphics with LEDs and fiber optics to create or enhance movement, light, dimension and color.