Aquafil produces nylon-6 from recycled raw materials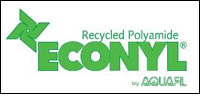 Respect for the environment, sustainability and the protection of natural resources: these are major objectives that Aquafil and its customers can attain today thanks to Econyl, the new Aquafil brand of products in polyamide 6 obtained exclusively from recycled raw materials.

The launching of Econyl textiles on the market is supported by the company's carefully focused strategy aimed at creating, in concert with textile manufacturers and end brands that believe in the principles of environmental sustainability, garments produced through a virtuous and closely controlled production process.

The first initiative was cemented with the companies Carvico and Jersey Lomellina that, within the Life Cycle Control project, developed four environmentally sustainable and innovative fabrics, "Fuoco", "Acqua", "Aria" and "Terra" (Fire, Water, Air and Earth respectively) destined for use in the production of beachwear, underwear and sportswear.

The Econyl project, thanks to innovative technologies developed within the Group and to significant investments making the project possible, can offer Aquafil the advantages of size and robustness that are necessary to meet the needs of the great fashion and sports brands, increasingly desirous of satisfying rigorous environmental policies and offering consumers sustainable products.

The new Econyl plant, which Aquafil inaugurated in Lubiana in May 2011, produces polyamide 6 by recycling materials which would otherwise be destined for the incinerator or landfills, either post industrial or above all post consumption, from abandoned fishing nets found on the sea bed to used wall-to-wall carpeting, from fabrics to nylon-based plastic components.

In fact, Aquafil has promoted an international network for the recovery of waste and discarded materials that, once selected and appropriately treated, can be reused as raw materials in the production cycle and transformed into new caprolactam, the raw material for the production of nylon 6.

The production process introduced by Aquafil allows almost infinite recycling and it is therefore the Group's intention to gradually decrease the dependency on raw materials of fossil origin for the greater good of the planet.

"Econyl is opening up a new idea of sustainability," says Giulio Bonazzi, Aquafil's President, "able to generate value, not only for the Group, but also and above all for the environment. This is the result of a deep conviction that has matured over the years, according to which sustainability should not only be lived as a result but rather as a way of thinking and being.

With the launch of Econyl, we are proposing a new business model in which the fabric manufacturers can offer their innovative solutions, also in terms of respect for the environment, to an ever more careful and selective consumer.

Every year, over 70 million tons of fibres are produced and the textile thetextile industry will no longer be able to continue letting these finish in landfills at the end of their life. Econyl is a solution that the most far-seeing and exigent companies are already coming to appreciate".