National Level Task Force on Handlooms formed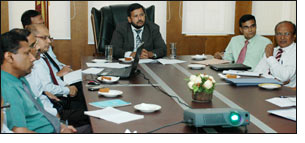 For the first time in the handlooms history of Sri Lanka, a National Level Task Force (NLTF) has been formed by a top Minister for the development of the handloom sector and to prepare a viable business model for it on a high priority basis. "The Task Force I am setting up is a national level effort and will infuse the Private Public Partnership model to this sector. It will give value and professional structure to it.

It will also lead to a centralised National Handloom Coordinating Centre, create the essential roadmap for the development of this promising sector and will promptly begin to implement its targets starting from mid-January 2012" announced Rishad Bathiudeen, Minister of Industry and Commerce of Sri Lanka.

Minister Bathiudeen was addressing the pioneering meet of the high level taskforce on 22 December at the Ministry of Industry and Commerce, where representatives from the USAID, National Entrepreneurs Development Authority (NEDA), University of Moratuwa, Export Development Board, Department of Textiles, Sri Lanka Institute of Textile & Apparel, joined together to map out the future direction of the promising Sri Lankan handloom sector.

"The overall objective of the Task Force is to identify the challenges and issues of the $ 13 Mn handloom industry in Sri Lanka and propose an appropriate Business Model for sustainable development it" Minister Bathiudeen said. "We should diversify our handlooms basket further.

We need to minimise yarn import prices for the industry to be profitable. We also need to introduce many more private sector players to supply quality yarn for the industry" Minister Bathiudeen said.

"The weavers should now start to earn a decent, if not an attractive earning for their efforts which is a key focus of the Task Force. The Task Force will also oversee capacity building of 100000 Lankan handloom personnel in the next three years so that the Human Resource void could be overcome" Minister Bathiudeen added.

Industry experts and pioneers have already warned of the dearth of second generation skilled weavers once the current weavers vacate from the industry. Lack of recognition is a major reason for the youth to stay away from this promising industry.

"We also identified that efficient management of the enterprises, attracting the younger generation to the Industry, promoting the industry at village level and linking with national level programmes like the Divi–Naguma, as priority areas to be addressed.

As per the committed and guided initiative of Basil Rajapaksa, Minister of Economic Development, we will begin to form District Level Handloom Coordinating Centres (DLHCC) very soon.

These DLHCCs will bring in the much needed structure to the industry and will facilitate buyer - seller meets, design and development of products, giving weavers exposure to competitor's products, and helping the designers to innovate. The DLHCCs will be coordinated by the centralised National Handloom Coordinating Centre (NHCC) to be located at Katubedda under the Department of Textiles.