Wilh. Wülfing products get OEKO-TEX Standard 100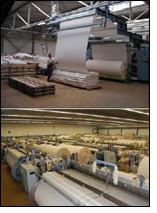 Wülfing GmbH & Co.KG have been successful for 125 years - and have always kept pace with the times. Wülfing is one of the first companies in Germany to have had its products certified under the OEKOTEX Standard 100 continuously since 1993 and to still have valid certificates for all its articles today.

Specialists in extra-wide products
Domestic textiles made by this family-run company in Borken have become wellestablished in Germany and elsewhere under the brand name "Dormisette". Especially in the USA and other countries where consumers like their bed linen to be over-sized, the brushed cotton and flannelette fabrics from Wülfing are extremely popular.

The company made the decision quite early on to switch its production to extra-large sizes in order to boost its export business. Today, after several years of change, exports account for about 30% of sales - thanks to new products, new markets and above all new customers.

Johannes Dowe, one of the Managing Directors at Wülfing, declares: "Our greatest strength is that we can handle all production stages, from the preliminary weaving work to the finished packaging, really flexibly in finished widths up to over three metres.

Our Sanforized plant, where a special finishing technique is used to prevent subsequent shrinkage of the textiles due to moisture, heat or pressure, is the only one in Germany with a working width of 3.40 metres." That makes Wülfing one of the fully integrated manufacturers which have been able to establish themselves in Germany thanks to having the necessary expertise and experience.

125 years of textile experience
The colonial merchant Wilhelm Wülfing founded his textile company of the same name in 1885 in Borken, Münsterländ, and during the 1950s it was to become Germany's leading manufacturer of muslin nappies, under the brand name "Wundex". However, by the start of the 1970s, the overwhelming success of disposable nappies meant that traditional cloth nappies were becoming a niche product.

The brand-name "Dormisette" had already been registered in 1968 for sheets and bed-linen and so the two managing directors of the time, Gerd and Wilm Wülfing, decided to change the focus of their production to brushed bed-linen. They made a massive investment in new buildings and machinery, so that they could convert entirely to extra-wide products.

Over the next few years, the "Dormisette" brand was successfully launched internationally as well. In order to be able to meet demand as cost-effectively as possible in future, in 2002 a subsidiary company was set up in the Czech Republic as an additional manufacturing site.

Healthy product portfolio
Today, the product range comprises far more than sheets and bed-linen: the "Dormisette Protect & Care" range that was brought out in 2006 includes, in addition to standard bed covers, incontinence sheets and protective anti-dust mite covers. With its "Dormisette Baby Care" concept that was introduced at the same time, Wülfing offers a complete range of baby articles.