Sanitized AG's new CEO focuses on innovation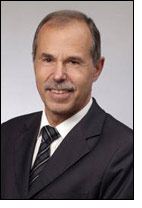 Urs Stalder has been appointed as new Chief Executive Officer (CEO) of SANITIZED AG, Switzerland's world-leading provider of antimicrobial hygiene function and material protection for textiles and plastics. Urs Stalder was previously a member of the executive management team and Marketing Manager.

In his capacity as CEO, Urs Stalder will pursue a strategy focused on innovation and the development of new technologies paired with a strengthening of SANITIZED AG's current comprehensive services. Further, the company will concentrate on opening up new market segments in the fields of technical applications (air conditioning and ventilation), medicine, and food. His predecessor and company owner, Niklaus J. Lu¨thi, will remain with SANITIZED AG as chairman of the board of directors.

Urs Stalder has been with SANITIZED AG for twenty years. Under his direction as Marketing Manager and member of the executive management board, SANITIZED AG launched innovative products internationally and developed the Sanitized brand into a highly valued, internationally licensed ingredient brand with a very high level of credibility. Major manufacturers of textile and plastic products, such as The North Face, Levi ´s, Marks & Spencer, Tarkett, Franke Kitchen Systems or Airex use the Sanitized brand as a seal of quality for the integrated hygiene function in addition to their own logo. The Sanitized logo is placed on products, POS material, and packaging to help consumers have a deeper and more tangible understanding of the integrated hygiene function.

"We do not think in terms of products but rather in solutions for the challenges faced by our customers," said Urs Stalder, CEO, SANITIZED AG, when describing the approach SANITIZED AG takes – and will continue to take in the future.The company defines itself as a partner of the customer in the entire production and post- production process. This means that test services are offered to customers alongside guidance on regulatory issues and comprehensive marketing support. It is precisely this distinctive approach that Urs Stalder sees as an important differentiating characteristic and recipe for success.

Urs Stalder continues: "SANITIZED AG brings together innovative antimicrobial products for textiles and plastics, sustainable technologies, and a service package like no other in this industry." Sustainability has played a central role at SANITIZED AG for far longer than the market has demanded it. The responsible handling of resources will continue to be a very high priority for the new management team in the future.

In economic terms, Urs Stalder sees room for growth in existing markets as well as through the active opening of new segments. Innovative antimicrobial technologies for medical- technical areas, in particular plastics and technical applications, which enable better material protection, are seen as international opportunities with very promising prospects. New innovations will be presented in May at the international plastics trade fair Plast 2012 in Milano, Italy, where SANITIZED AG will have a booth.