Reintroduction of Cool Wool campaign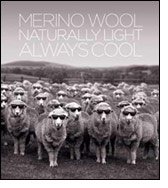 The Woolmark Company is working with Europe's premium wool weavers specialising in lightweight Merino suiting fabrics to reintroduce their successful Cool Wool Campaign.

Merino wool is used for its natural breathable and thermal-management properties in lighterweight fabrics for warmer climes and Spring/Summer markets. Offering a soft, luxurious handle and drape, the Cool Wool fabrics will initially be taken into the buoyant Gulf markets where there is a strong demand for finer fabrics in both domestic consumption and re-export across the region.

A guild of leading luxury weavers, supplying international brands and bespoke tailors, launched Cool Wool fabrics in their Spring ranges to the global apparel industry at Milano Unica and Première Vision, February 2012. The consumer launch will take place in the Gulf during July, followed by a wider introduction into other key fashion and wool consuming markets from Spring 2013.

Cool Wool forms an important element within The Woolmark Company's Wool Lab presentation for Spring/Summer 2013, the seasonal guide to trends and the best wool fabrics and yarns. The launch of the Cool Wool consumer program reinforces The Wool Lab SS 2013 key themes for lighterweight and fine Merino fabrics that have been created to unveil the potential of Merino wool products in the warmer months.

The media and industry response of The Wool Lab SS13, at its launch at Pitti Uomo, January 2012, confirmed that the guide has become an essential tool for highlighting and inspiring the global apparel industry to source the best Merino wool fabrics and yarns in the world, identifying emerging trends in fashion and other fields from design to art, music and pop culture.

Cool Wool is included in The Wool Lab as a leading trend, expressing a 'return to elegance' and an emerging request of quality, and showcasing the finest and most precious Merino wools, in its lighter variation, renewing classic materials, volumes and colours.

The Cool Wool theme is presented in two ways: the first is more traditional, the second is more relaxed and easy.

La Dolce Vita presents a slightly more formal mood and inspiration with modern accents and unexpected touches to capture a more youthful (or young at heart) consumer who is looking for materials of higher quality. The finest Merino wools are mixed with mohair or silk in natural and classic colours.

Newport is the summer interpretation of the new preppy style which has become a long-term trend, celebrating the WASP aesthetic through a continuous renewal, season after season. It is the style of the holiday spots of the American east coast, full of Kennedy-inspired memories and atmosphere, evoking the Great Gatsby, with a more relaxed mood: the most precious Merino is mixed with natural fibres such as cotton or linen, to achieve a 'relaxed' look. Jersey and fine knits complete the theme, providing accents of colour.

Both La Dolce Vita and Newport celebrate the fibres natural qualities making Merino wool ideal for the warmest climates and months including exceptional lightness, fineness, softness and comfort next to skin, breathability, natural elasticity and UV protection. Features that perfectly match the fabric and garment attributes of demanding consumers, who expect quality products, combining style and performance, to be used throughout the year and in every type of climate, always assuring maximum elegance and functionality.