Onlineprinters upgrades its textile printing production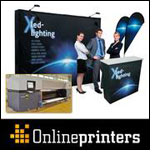 Onlineprinters GmbH has upgraded its production department for large format printing with one of the most advanced digital printing machines for textile printing presently available on the market.

The Rhotex 320 from Italian manufacturer Durst Phototechnik AG enables polyester fabric to be printed in premium colour quality with long durability for outdoor use. The textile fabrics are certified according to Oeko-Tex Standard 100. The printing inks are environmentally compatible, odourless and lightfast.

"There is a huge demand in the online shop for textile advertising and presentation systems for indoor and outdoor advertising. We have again expanded our choice of advertising flags, textile folding displays and folding counters by high-quality large format printed products", Mathias Weies, head of Onlineprinters GmbH "Large Format Printing" department is pleased to comment on the new cutting-edge industrial textile printing machine.

"Only few online print shops can afford this Mercedes among the textile printing machines", Weies further. German Onlineprinters GmbH has invested a total of EUR 1 million into expanding and modernising its textile printing production. The new industrial soft signage printer Rhotex 320 prints textile fabrics in XXL format using water-based dye sublimation inks.

The polyester fabrics and flag materials are fixed and made weather-resistant via thermosetting which ensures that textile prints are lightfast and colourfast for up to two years even when used for outdoor advertising.

"We deliver fabrics that make our customers' advertising a real eye-catcher", Weies explains. Sometimes, big is not big enough - this is particularly true for outdoor advertising. Flag fabrics and polyester fabrics can be printed to a maximum width of 3.20 m and virtually any length. Advertising flags such as drop flags, wing flags and square flags are extremely lightweight and space-saving making transport a breeze.

They are ideally suited for presentations at trade shows, advertising campaigns at the point of sale or for sporting events. The lightweight, tear-resistant and air-permeable polyester flag fabric weighs 110 g/m2 and is sublimation printed in a sophisticated process using water-based inks. All edges are hemmed to ensure long product durability.

Textile folding displays and transportable textile folding counters are indispensable for mobile trade show applications. Formats up to 370 cm x 225 cm (15-panel folding display) can be ordered in the onlineprinters.com online shop. The shop also offers matching halogen spots for the exhibition stand.

This enables customers to purchase a complete presentation system in top quality and at affordable cost which can be used again and again. Textile folding displays and folding counters can be combined to form a customised exhibition stand giving exhibitors utmost flexibility. It is made up of lattice systems that can beset up without much effort and are easy to transport. The displays can be re-ordered separately and the motif can be exchanged if desired. This particularly appeals to customers who visit several trade shows per year.