Thai textiles & garments must improve quality: Olarn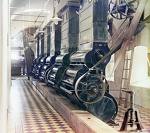 Textiles and garment entrepreneurs in Thailand need to upgrade their product quality by adapting to new technology, Mr. Olarn Chaipravat, President of Thailand Trade Representatives, has said.
He said Thailand's readymade garment and textile products are facing tough times for want of technology upgradation.
Therefore, the entrepreneurs must improve standard of their products through use of technology, to produce better quality and more fashionable products, he added.
Mr. Chaipravat also stated that Thai entrepreneurs who are finding it difficult to sustain with the new minimum wages, may consider shifting their production bases to nearby countries, where there is availability of labour at lower rates.
Fibre2fashion News Desk - India