Imported cotton price index rises higher in China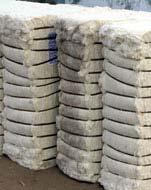 China's Foreign Cotton Index M (FC Index M) increased by 0.91 cents/lb from previous day to US$ 89.14 cents/lb on August 7.
In terms of delivery at port under one percent quota tariff, the price of imported cotton worked out to 14,362 Yuan/ton, up 145 Yuan/ton from a day earlier.
Under floating tariff, in terms of delivery at port, the price was equivalent to 15,133 Yuan/ton, showing an increase of 125 Yuan/ton compared with the previous day.
Fibre2fashion News Desk - China