Tajikistan's textile imports decline in Jan-July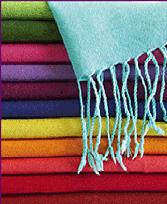 The imports of textiles by the Central Asian Republic of Tajikistan decreased by 4 percent year-on-year, during the first seven months of the current year.
The decline in textile imports is attributed to a slowdown in the country's economy.
Tajikistan imported textiles worth US$ 19.2 million during January-July period, a dip of US$ 800,000 compared to the same period last year.
In spite of Tajikistan being a textile producer, imported textiles have a huge market in Tajikistan.
Fibre2fashion News Desk - India