Spanish textile sector sales rise 3.6% in Jan'13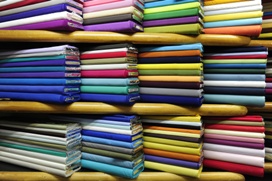 Registering its first increase since October 2012, the sales of Spanish textile industry increased by 3.6 percent on the Turnover Index (ICN) in January 2013, compared to a fall of 9.5 percent in December 2012.
The increase in textile sector sales is in contrast to flat sales across Spanish industrial sector in January, according to the National Statistics Institute (INE).
The garment sector, on the other hand, recorded its worst figures since October 2011, showing a decline of 16 percent, compared to a fall of 6.8 percent in December 2012.
The New Orders Index (IEP) also showed a rise of 1.7 percent year-on-year in textiles, while the apparel sector showed a dip of 15.3 percent year-on-year.
Fibre2fashion News Desk - India