Persian rug fetches record $33.7mn at auction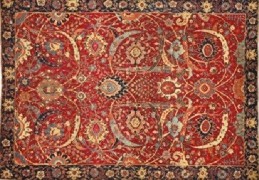 A rare 17th century Persian rug fetched a record breaking sum of US$ 33.7 million at an auction organized by the world's largest auctioneers of fine and decorative art collectibles Sotheby's.
Sourced from the Corcoran Gallery of Art, Washington D.C, the carpet, which was originally bequeathed to the museum by a US senator, William Clark, from Montana in 1926, is decorated with swirling vines and vibrant flowers.
The 8 feet 9 inches by 6 feet 5 inches rug was part of the 25-piece William A. Clark Collection which was being auctioned by the museum to aid its future procurement of new American and contemporary artworks.
Before the Clark Sickle-Leaf Carpet auction, a blue leaf-patterned 17th-century Iranian rug held the world record of fetching an astounding sum of $9.6 million at Christie's in London in 2010.
Fibre2fashion News Desk - India