Prize money lures carpet weavers at Domotex 2008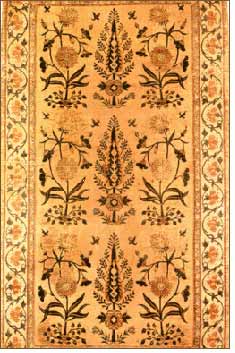 Running successfully for last 17 years, Domotex Hannover 2008, one of the leading international trades fair for hand woven carpets and Floor Coverings, this year, is going to open tomorrow at the Hanover Exhibition Grounds in Germany.

The expo which will last till January 15, expects to receive more than 1400 carpet producers from various countries.

Some 30 Carpet weavers and designers from different parts of Iran are ready to display their spectacular creations by occupying twelve extensive halls.

Although Pakistan and Afghanistan will be participating at Domotex 2008 for the first time, Turkey, Netherlands, Switzerland, India, China and Italy will present their latest products adding richness to the event.

Reason behind the eagerness to display their best pieces is the prize money of 10,000 euros. This will be carried away by the country having most innovative designs and best quality. The jury will rate the entries on the basis of the material, quality, design, color and technical attainment.