Etisalat supports GCC 11th Industrial Conference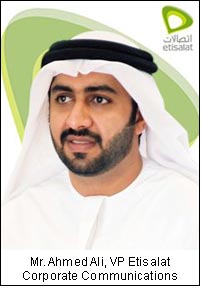 Etisalat announced its participation at the GCC 11th Industrial Conference on Petrochemicals being organized at Abu Dhabi. Etisalat is a Silver Sponsor of the conference, which is organize by the Gulf Organization for Industrial Consulting in cooperation with industry stakeholders in the United Arab Emirates. The conference targets to create a vision of petrochemicals industry in the GCC in 2020.

Ahmed Bin Ali, Vice President Corporate Communications, Etisalat, said, "Etisalat is well positioned to support the industry and help it focus on core business activities. We can build a strategic partnership with the industry so that they can leverage our expertise as a leading Information and Communication Technology (ICT) provider that can work closely with them to facilitate achievement of their business goals."

Etisalat is showcasing a range of solutions at the conference to support the industry which is seeing very attractive growth rates due to the wide range of applications from the sector in everyday life. The industry today is placing a high degree of importance on 24 X 7 availability of technology infrastructure, and is looking at relevant ICT and telecom solutions to cope with revolutionary technological changes and remain competitive.

Etisalat's extensive range of solutions start with a variety of voice solutions that helps to enhance productivity and customer satisfactions. Etisalat's portfolio of solutions include Fixed Lines, International Direct Dialing (IDD), Local and International calls, Audio Conferencing, Toll Free services and a variety of value added solutions.