Domotex marks new beginning for carpet industry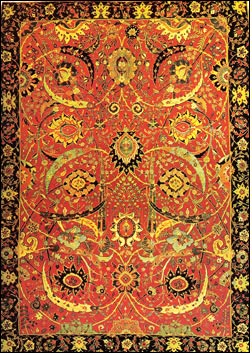 Domotex in Hannover, Germany holds one of the biggest carpet fairs of the world from past 17 years. Carpet weavers from all over the globe participate, here. This year Nepali carpet entrepreneurs including few Government officials were present at the venue from January 12 to 15.

A 'Nepal Evening' was organized by the country's delegation at Messe Berlin Hall. Prominent international buyers of Nepali carpets were present for business interaction. Nepali Ambassador to Germany, Dr Madan K. Bhattarai, guaranteed full support to international carpets importers from Nepal's legation to Germany.

Government officials informed that they are eager to regain the public and private participation in carpet sector. The government will stand by the private sector so as to boost the exports. There is a need to balance the private and government sectors to fight back the decline which has come in the exports.

The largest importer of Nepali carpet is Manfred Barfuss of Ludwig Wassenbach (Germany). Barfuss appreciated the quality and designs and urged the weavers to keep it intact. It was also awarded for importing highest quantity of Nepali carpets.

Likewise, Andrews Dams of Kibbeck Teppich (Germany), Martin Greabner of Talis GMBH (Germany ), Mohammad Selvi of Selvi Hali Company (Turkey) and Representatives of Tufinkeen (USA) and The Rugs Corporation (UK) were also recognized as big consumers of the Nepali carpets.