Garment sector carves a niche in Indian economy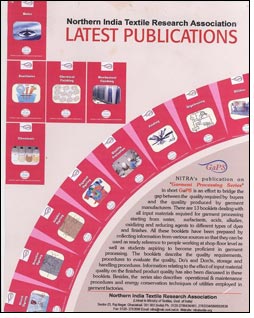 The need for useful information on various aspects of garment processing in an easily understandable manner has been felt for long.

This need has become more pressing due to the exponential growth of garment sector in recent times and the fast changing developments taking place in garment manufacturing technology.

In a sense, the garment sector has carved a niche in the Indian economy and therefore deserves focused attention for its overall development.

In a situation like this, publication of exclusive technology based literature to enhance garment education is the need of the hour.

Most of the publications available at present are either imported books or the Indian ones meant for high-end technologists and professionals.

In fact, exclusive publications for garment sector in easy and understandable English with technical information in 'ready to serve' form is not abundantly available.

In a situation like this, in August 2006 NITRA had published NITRA TABlets, a series containing 15 technical booklets covering the major areas of apparel manufacturing such as seams, stitches, sewing needles, seam puckering, sewing of knits, zippers, denim washing, care labeling, stains, and quality assurance in apparel manufacturing.

In addition to that, some other important areas like UV protection, Aramid threads, Glass threads, Oeko-Tex standards and social accountability (SA 8000) is also covered.

Following the overwhelming success of TABlets, NITRA, on the occasion of 49th Joint Technological Conference at BTRA, Mumbai, is releasing its latest publication NITRA Garment Processing Series or GaPS, in short.