Lectra's Vector automatic system sales up 43%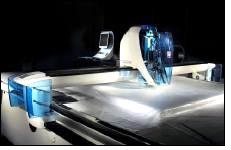 Lectra, world leader in integrated technological solutions dedicated to industries that use soft materials, announces a record number of sales for its new generation of Vector automated cutting systems.

Sales of the new generation of Vector automatic cutting systems, launched last February, are up 43% compared to sales of its predecessor in 2006.

"We are particularly proud of the strong growth in the number of Vectors ordered, in all markets. Totally renewing our range of automatic cutting systems was a real technological gamble for Lectra. The results achieved by our new Vector range demonstrate the superiority of our new automated cutting systems, and prove that the massive investment by the company – more than 15 million Euros to date – was a gamble that has paid off" says Daniel Harari, CEO Lectra.

Lectra's new generation of Vector, unrivaled technology!
With its new Vector range, combining power with intelligence, Lectra has taken an unprecedented technological leap forward. Combining speed with unbeaten cutting quality, manufacturers can brush off previous limitations on use that they had to deal with and at the same time to achieve exceptional productivity gains, with absolutely no compromise on quality and reliability.

Aimed at the fashion, automotive, furniture and technical textile industries, the new generation of Vector is today enjoying a well-earned success. A real competitive advantage, they ensure productivity measured at 2 or 3 times that of the standard models on the market and enable material savings of 5% or even more.

The cost per article produced is between 20 and 30% lower than the competition, with outstanding cut quality from the first to last ply. It is a unique solution on the market in that it allows manufacturers to recoup their investment in generally less than a year, and to satisfy up to 50% more orders, using a reliable solution, integrated preventive maintenance, with operating costs reduced by up to 20% (energy saver, increased lifespan for consumables and spare parts).

Start of 2008: Two new Vector lines and a new VectorLingerie are born.
Buoyed up by the success of their new range in 2007, Lectra today announces the launch of 2 new Vector lines: The VectorM88 and the VectorM55 lines – at the entry level of the Lectra range – as well as a new VectorLingerie, the VectorLingerieFX dedicated to top of the range lingerie. With these new Vectors, Lectra is today expanding its range of solutions to address a wider market and win over new clients.