Clothesline Fresh Laundry offers advanced laundry technology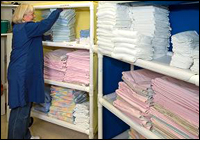 Spartan's Clothesline Fresh Laundry line is the newest technology in professional laundry care from a trusted name in the Jan/San Industry. Spartan's laundry program consists of twelve products formulated and tested to offer the most advanced laundry technology available. Clothesline Fresh Laundry consists of: All Purpose Spotter, Alkaline Spotter, Rust and Iron Remover, Laundry Break, BLD (Built Laundry Detergent), Laundry Detergent, Chlorine Bleach, Color Safe Bleach, Fabric Softener, Fabric Softener/Sanitizer, Laundry Sour, and Sour/Softener. Clothesline Fresh Laundry specifically targets soils and stains to get fabrics clean, bright and leave them with a fresh fragrance.

Contemporary Cleaning Technology:
Spartan's Clothesline Fresh Laundry Line contains the latest in laundry technology. This contemporary cleaning technology allows for superior cleaning performance at a lower cost! This new technology is also more environmentally preferable than most traditional products.

Compatible Laundry Program:
Clothesline Fresh Laundry products work great when used alone or as part of a total laundry program. For superior soil removal and fabric care, combine Clothesline Fresh Laundry Detergent with Clothesline Fresh Break, Bleach, Fabric Softener and Sour. Clothesline Fresh Laundry products have been formulated to work together.

Convenient Storage:
Clothesline Fresh Laundry products can be stored in a wide variety of environments and locations.Each product can withstand three freeze/thaw cycles without affecting the performance of the product.