Tremendous opportunities for investment in Petrochem industry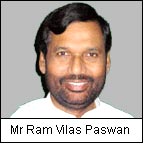 With the recent Budget 08-09 imposing an import duty of 5% on Naphtha, the concerns of the petrochemical industry were voiced at the International Petrochem Conference 2008 with the theme "Opportunities in Indian Petrochemical Industry" organized by Confederation of Indian Industry (CII) in Mumbai, where Mr. Ram Vilas Paswan, Minister of Chemicals & Fertilizers, Government of India promised to personally take up the issue of reduction in import duty on Naphtha with the Finance Minister.

"There are tremendous opportunities for growth and investment both in upstream and downstream Indian Petrochemical Industry", said, Mr. Ram Vilas Paswan.

Speaking at the CII Conference, the Honourable Minister emphasized that the Petrochemical Industry plays a major role in addressing basic requirements in the areas of food, water, security, shelter, clothing and textiles, healthcare and social and physical infrastructure.

"The key will be innovation and keeping pace with the changing habits and expectations of customers. The present domestic per capita consumption of polymer is 4.8 kg per person as against the world average of 25 kg", said Mr. Paswan highlighting the huge potential in the petrochemical sector giving rise to tremendous opportunities.

He further explained the initiatives taken by the Department of Chemicals and Petrochemicals, Government of India towards implementing the National Policy on Petrochemical.

"The Department has constituted an Inter-Ministerial Group on Development of Plastics, identified thrust areas and undertaken various feasibility studies for implementing Policy measures", said Mr. Paswan.