CIECO concludes agreement with Callon Petroleum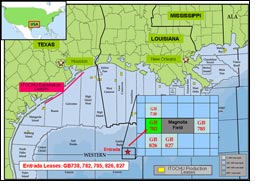 CIECO Energy US Limited ("CIECO", Delaware, USA), 100% owned subsidiary of ITOCHU Corporation, has concluded an agreement with Callon Petroleum Operating Company ("Callon", Mississippi, USA), US Independent US Oil & Gas Company, on February 11th 2008 (local time) to acquire a 50% working interest in the Entrada Field(Garden Banks Blocks 738, 782, 785, 826, 827) from Callon who currently holds the 100% working interest(Please refer to the chart).

The transaction will become effective as at January 1, 2008 retroactively when all Condition Precedent, such as to acquire relevant and necessary approval to close the transaction, are satisfied or waived.

The consideration includes a US$155 million at closing and additional future cash payments contingent upon field production.

Entrada Field, which is located about 260km off Louisiana, in the deep water region (> 1,400 meter) of Gulf of Mexico, was discovered by the exploration well drilled in the year 2000 currently under development.

In order to achieve initial production from the field in the first quarter of 2009, drilling of the development wells will be commenced in this summer.

The development costs incurred before initial production are estimated at around US$300 million, 50% of which will be borne by CIECO.

Development wells drilled on the Entrada Field are being tie-backed to the nearby platform, Magnolia Tension Leg Platform ("Magnolia TLP"), which is 6km off from the field, and oil and gas produced from the Entrada Field will be processed on, and exported from, the Magnolia TLP via existing pipelines. The production handling agreement has been signed with the operator of the Magnolia TLP.