bluesign award for Schoeller Textil AG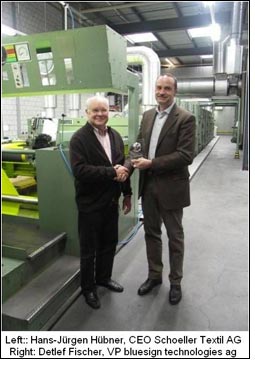 Companies who gear their production to the bluesign Standard guarantee their direct customers and the consumer that, throughout the entire manufacturing chain, only those components and processes are used which are safe for humans and the environment.

In 2001, Schoeller Switzerland was the first company to anchor the bluesign standard as its "production statute". And in January 2008, the Swiss market leader for innovative fabrics and smart textile technologies became the first company to receive the bluesign Award for system partnership.

System partners of bluesign technologies ag hold the key to manufacturing sustainable and ethically responsible products which are both modern and uncompromising in design, function and comfort.

Companies wishing to become system partners commit themselves to using bluesign analysed and approved raw materials and processes for their "bluesign products" and to submitting themselves to screening. This generally optimizes the entire production process, orients the company to the demands of the future and, in addition, leads to higher cost efficiency.

Schoeller was a system partner from the outset:
In the 90s, together with other companies such as Nike or the former Ciba, Schoeller Switzerland initiated an ecologically-oriented production and quality standard which was also tailored to the requirements of a discerning clientele.

"Man is the central focus of our endeavours. We wish to support him in his work, in his leisure time and in his sporting activities with premium, intelligent and ecologically-safe textiles," is how Hans-Jürgen Hübner describes the longstanding company philosophy of the Swiss firm.