Govt raises concern on 16 toxic chemical substances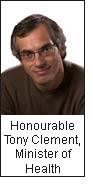 The Honourable Tony Clement, Minister of Health, and the Honourable John Baird, Minister of the Environment, released preliminary findings for 16 chemical substances identified as high priorities for action under Batch 2 of the Chemicals Management Plan (CMP).

"Canadians expect their government to protect the environment from harmful chemicals, and that's why we are taking action," said Minister Baird. "Our initial assessment shows that four of these chemicals should be kept out of our environment and as a result we will be working with stakeholders to stop the release of these substances at the source."

"Our recent actions on bisphenol-A demonstrated our commitment to protecting the health of Canadians," said Minister Clement. "Our government identified these substances as a priority for real action following our world-leading categorization process, and today's announcement is further proof of our commitment to the safe management of chemical substances."

Out of the 16 chemical substances, five are proposed "toxic" to the environment. Four of these chemicals are being considered for virtual elimination which aims to reduce the release of these chemicals to the smallest levels possible. In addition, five substances are being proposed as "not toxic" to the environment based on new information received from interested parties.

The six remaining substances out of the 16 are proposed "toxic" to human health; however Canadians' exposure to thesesubstances is very low. Potential toxicity to humans depends on the dose received and the way a person is exposed to a chemical.