Detect flaws in manufacturing early & avoid subsequent expenditure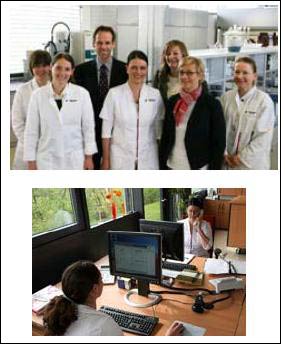 Inspecting product quality directly at the place of manufacture helps all companies which source goods worldwide to spot flaws in the manufacturing process at an early stage and avoid subsequent expenditure. But for the purchaser, speed is of the essence!

At the Hohenstein Institutes in Bönnigheim, we tracked an inspection job which proceeded entirely smoothly over the 10 days from when the instructions were first received to the final test report.

Thanks to modern technology and sophisticated logistics, the Hohenstein inspection team in our example took just 10 working days, with everything running smoothly, from when the instructions were first received until they presented the detailed test report to the customer.

"The main priority of the Inspection Service is to avoid expensive complaints. That's why we intervene at the earliest possible stage in the production process. We customise the scale of the testing and the timetable to meet the individual customer's needs." Simone Hennefarth (in foreground), Head of the Inspection Service.

A European retailing company instructed Hohenstein to inspect production at a garment manufacturers making children's sleep-suits in China. The extent of the inspection was defined by the customer working with the Head of the Inspection Service, Simone Hennefarth, and Sabine Giering, who coordinate the on-site inspections worldwide from Bönnigheim/Germany:

• Conformity with accepted prototype products
• Compliance with European legislation on harmful substances
• Products meet international quality standards
• Processing is tested on site
• Contractual product properties are guaranteed

Random samples should be taken when the volume of production is at 10-20% as part of a so-called During Production Check (DPC).

"The date for an inspection can generally be agreed on from one day to the next. This requires a high degree of flexibility on the part of the inspectors." Rachel Huang Head of the Hohenstein Liaison Office in Shanghai/China.

Using an internal EDP portal, Rachel Huang, Head of the Hohenstein Liaison Office in Shanghai/China, calls up the data for the new job. She agrees a date with the textile manufacturer and organises the route plan for an inspection team accordingly.