Decrease costs to promote efficiency, Mr Qiu Jibao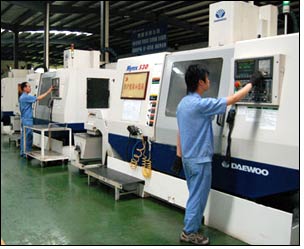 Workshop is the base of the manufacturer and the management of the workshop would directly affect the quality of product, costs, time of delivery, etc.

With the arrival of "Era of merger profit", workshop management play more and more important role in the enterprise.

Recently, we went to CNC workshop, which won the title of National "Pioneer of worker" not long ago, and found the very eye-catching slogans such as "enhance management, decrease cost, increase efficiency" etc.

And workers were operating CNC machines strictly according to the normative operation, the production was in a very orderly state.

Workshop director Shi suqing told reporter: "We should not only scientifically arrange the production tasks based on the orders, but also should take care of equipment maintenance, ensuring product quality, reducing production costs, and supervising the workshop operation, etc.

We must go all out to create more economic efficiency for the company." Meanwhile, the Chairman of the group Mr. Qiu Jibao had held a specialized meeting in the CNC workshop, and required every workshop to comprehensively study the CNC workshop's advanced experience.

CNC workshop's "experience" is that they implement the contributive activity of "Enhance management, decrease cost, increase efficiency" thoroughly, meanwhile, they focus on assessment, and assign the quantitative and detailed indexes to terms, and then decompound them directly from teams to individuals. This is an effective method to motivate every employee's enthusiasm, activity and creativity.

During the decomposition of indexes, as the positions are different, so the assessments should also be different. Based on that, they made specific indexes, clear rewards and punishments, so that everyone has the responsibility, each employee has a target.

Shi Suqing said:"n the management of the workshop, we deeply feel that whether the concept is updated, how much it updates, and how fast it updates are closely related to the effect of the assessment and the management.

"Therefore, the workshop leadership members pay more attention on guiding workers to improve the awareness of marketing economy, so that every one can take care of the quality, cost and benefit actively.

Reportor got an actual example from an employee named Cao Hiajian, he told us that in the past, the workshop used up large quantity of knives, and most of these knives were imported, so the production cost was very high.

Because every team did the cost assessment on the basis of quality assessment, on one hand, they do everything possible to improve the technology, and increase the tool life, on the other hand, they develop home-made knives instead of imported ones. It not only insues the processing quality, but also reduces the processing cost.

"Management must keep up with the tones of the indicators' refinement. So we link the management to every detail." Shi Suqing said.