Merino brand symbolises uncompromising quality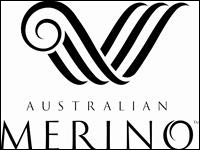 The Australian Merino brand has been created in recognition of 200 years of the Australian wool trade. It represents an evolution of the Australian Merino anniversary logo which was first showcased on the global stage in 2007.

"The Australian Merino brand symbolises uncompromising quality," said Craig Welsh, AWI CEO. "In developing this brand, AWI has captured the ultimate in natural luxury, representing the best Australia has to offer. It is a celebration of excellence, providing a point of difference for Australian Merino garments, retailers and brands around the world."

The Australian Merino brand is reserved exclusively for use on the finest quality apparel. It is offered only to the world's most discerning designers, manufacturers and retailers, with invitations extended to those who share AWI's passion for the finest apparel. Through AWI's careful selection of partners, this natural fibre's quality and exclusivity are assured.

"To be invited to use the Australian Merino brand signifies that your product is acknowledged for its ultimate luxury and unrivalled quality," said Craig Welsh.

Leading Japanese retailer Isetan and Herringbone Australia are two companies which have been offered this privilege.

Due to its inherent natural qualities, Australian Merino significantly outperforms other fibres, creating superior knitwear and suiting. A garment bearing the Australian Merino brand is guaranteed to be best in class.

Australian Merino is an extremely versatile and technically dynamic natural fibre. Offering superior performance, comfort and quality, it features a high level of UV protection and insulates against heat and cold with natural breathability.

Superfine Australian Merino fibre provides an elasticity that allows for total mobility and stretch, creating exceptional levels of comfort as it responds to the body's movements. The Australian Merino fibre has a unique structure that gives it an inbuilt resistance to sunlight, water, acid and mildew. Enhancing durability, it is also water repellent, and fire and static resistant.

Natural, biodegradable, sustainable As the driest continent on earth, Australia has a unique topography and climate. Merino sheep have adapted to this environment, developing fleece perfectly suited to Australian conditions. Refined over time, wool's natural attributes enhance every garment in which it features.

Natural: Australian Merino is a completely natural fibre. Reared on open grassland, the Merino sheep enjoys a largely carefree existence. Over time, its fleece has evolved to become one of the most effective forms of all-weather protection known to man.

Biodegradable: Merino wool takes only a few years to decompose. In contrast, most synthetics, like the ubiquitous plastic bag, are extremely slow to degrade. Merino's natural qualities make it possible to create garments that are exceptionally durable, while remaining kind to the environment.