Hohenstein to test sleep comfort of socks & children's bedding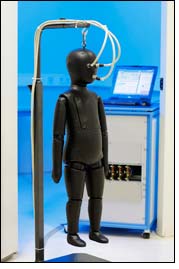 New measuring equipment has recently become available to the scientists at the Hohenstein Institute in Boennigheim that will allow them to evaluate even more precisely than before the wear and sleep comfort of socks, gloves and children's bedding. At the moment, thermo-regulation models of the human hand and foot and the thermally segmented test mannequin "Charlene" are doing their bit in various research projects.

In future, however, manufacturers, retailers and procurement organisations will be able to test the breathability and thermal insulation of coverings for the hands and feet in much more realistic scenarios than are possible with the Hohenstein skin model alone. Thermally segmented mannequin "Charlene".

With the help of "Charlene", a thermally segmented mannequin developed at the Hohenstein Institute, the sleeping comfort of children's bedding can be evaluated and optimised with respect to the special physiological needs of children. "Charlene" simulates the heat generated by the human body, just as her adult counterpart "Charlie 4" does – with the aid of a compute controlled heating system.

And just as is the case with their human role models, "Charlene", who weighs 20 kilograms and is 92 centimetres tall, produces far less heat than "Charlie 4", who weighs in at 75 kilograms and is 175 centimetres tall. Therefore, for a child to stay comfortably warm beneath the bedcovers, the amount of thermal insulation of children's bedding must be increased accordingly.

In addition, children's thermo-regulation ability is by no means fully developed, meaning that the body may react slowly or may not react at all to changes in ambient temperature. What is more, all their sweat glands have yet to become active. As a result, the risk of becoming chilled or overheating is disproportionately greater than it is for adults.

Unlike "Charlie 4", "Charlene" is made of synthetic materials rather than copper. A computer controlled heating system makes it possible to regulate independently the heat generated by six different segments of the body. The rule of thumb here is that the more heat a body part generates – meaning more energy is required in that segment to maintain target skin temperature, the lower the level of heat insulation provided by the blanket for that segment.

In addition to its insulating effect, the sleeping comfort of bedding is defined by its capacity to absorb perspiration and draw sweat away from the sleeper effectively. Because "Charlene" does not sweat, the measurements she contributes are combined with those from the Hohenstein skin model. The skin model enables assessments of moisture transport resistance as a measure of "breathability", and perspiration transport, sweat buffering, and drying time of the textile materials used as well.

When weighted according to their significance to a person's subjective perception of sleeping comfort, the measurements can be used to calculate what are known as "sleeping comfort marks". These range from 1, or "very good", to 4, which stands for "inadequate". The comfort marks are used today by numerous manufacturers in the form of the Hohenstein Quality Label.