IMB features all solutions for production of clothing & leather processing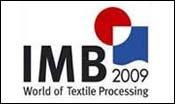 When IMB — World of Textile Processing opens its doors on April 21, 2009, there will once again be a veritable "who's who" of the sector in Cologne to present the world's most comprehensive range of technologies and services for the processing of flexible materials.

At a press conference, Koelnmesse as the organizer of IMB and the VDMA German Garment and Leather Technology Association as the conceptual sponsor of IMB 2009 expressed their satisfaction with the current status of planning.

The organizers expect the fair to attract more than 600 companies from around 40 countries, with approximately 70 percent of the exhibitors coming form outside Germany.

According to Udo Traeger, Vice President for Furniture, Interior Design and Textiles at Koelnmesse GmbH, IMB's good starting position is primarily due to its diverse range of internationally relevant offerings. IMB features all the solutions for the production of clothing, home textiles, and upholstered furniture and for leather processing. In 2009, the focus of IMB will once again be on the product group of process technology for technical textiles and materials.

However, Traeger thinks that the main reason for IMB's success is that, unlike other events, it brings together what belongs together. "Here, manufacturers of textile processing machines don't just meet with representatives of the trade but instead interact directly with the 'users' of their products, by which I mean the managing directors, technical directors, engineers, and procurement managers of manufacturers from the textile-processing industry.

In other words, they meet with the sector's real decision-makers," says Traeger. Koelnmesse expects the fair to attract approximately 25,000 trade visitors from around 120 countries.

The sector is undergoing radical changes
Elgar Straub, Managing Director of the VDMA German Garment and Leather Technology Association, says the sector is undergoing radical changes, irrespective of the current financial crisis. "Across the world, production locations are being newly organized," he says. "Energy costs have risen and labor costs in some of the low-wage countries have also increased noticeably. At the same time the sector is counting on more flexibility and productivity within the whole production chain, from suppliers to distribution. The trend toward individualization is accompanied by an increased awareness of quality. Environmental protection, resource conservation and social responsibility are further important topics for the whole sector."

Furthermore, the role of logistics throughout the entire value chain is currently being rethought. "The sector is closely examining the steadily increasing transport and logistics costs in relation to cheap products, particularly in regard to environmental protection," says Straub. Production centers close to sales locations are becoming more important, especially for high quality produce or for small batches that have to be made available quickly.