STF companies to display trend of 'swiss+cotton' & 'Swiss Silk' in Paris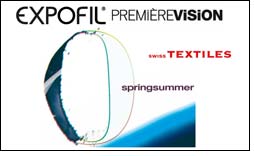 Première Vision and the Expofil yarn trade fair, held from 10 to 13 February 2009 in Paris, the fashion metropolis, are the world's most prestigious platforms where textile and garment producers exhibit their new articles for the 2010 summer collections. This year, Switzerland is represented by 16 textile companies which will once again be displaying top quality and outstanding fabric creations for luxury fashion.

The two trade fairs give visitors from all over the world an opportunity to view new items and highlights of the 2010 summer collections for the first time. They will find the latest creations in embroidery, guipure, cotton piqués, jacquards and glitter techniques. The trends of the "swiss+cotton" and "Swiss Silk" product labels will also be on display.

The following members of the Swiss Textile Federation (STF) are exhibiting at Première Vision:

Bischoff Textil AG - The St Gallen-based company is presenting a consistent but wide-ranging collection extending from extravagant couture creations to simple lightweight "everyday embroidery". Attractive and unusual fabric combinations, big motifs with the bijoux look, braids in luxuriant embroidery drawing their inspiration from Russia, marvellous broderie anglaise, tulle edging and guipure embroidery impart a prestigious and elegant general impression to this collection.

Filtex AG - As ever, the core speciality of Filtex AG remains classical Swiss plain fabrics, Fil Coupés, leno weave fabrics, prints and all kinds of fashion fabrics. The collection is augmented by embroidery made using every conceivable technique, a wide selection of guipures and allovers on all kinds of bases. Innovative products include fancy fabrics in 100% natural fibre and in the latest blends, jacquards, plain and stretch fabrics.

Forster Rohner AG - This traditional St Gallen company once again dedicates its summer collection 2010 to four different topics. "Lace Island" with lacelike embroidery draws its inspiration from stylised Asian nature studies. "Countryside" takes nature and natural character as the leitmotif for an eminently contemporary product. "Tomorrowland" shows biomorphic forms and flowing lines, supplemented by sophisticated sports design. "L'Empire des Femmes" is an example of sensuous inspirations and a successful blend of old and new.

Gessner AG - The new features of the 2010 summer collection are plain mini-jacquards, large pattern repeat cocktail grades with lurex, various piqué grades (honeycomb or with a braided structure) and chine optical effects. The prints concentrate on a range of cotton piqués, cotton satin and cloqués.

Hausammann + Moos AG - The Hausammann + Moos collection is based on tradition in cotton. The natural fibre is produced entirely in Switzerland by sustainable techniques. Only the finest long and extra long staple cotton is used, which readily stands comparison with silk or noble natural fibres. The 2010 summer collection has been divided into several groups: Swiss Organic Fabrics, Jerseys, Edition, Transparencies and Stretch.