Lenzing presents eco denim concept at Parisian trade fairs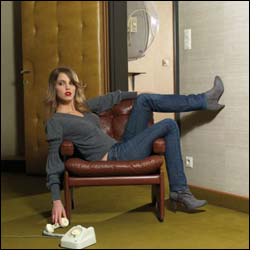 Lenzing is presenting an innovative eco denim concept TENCEL at the Parisian trade fairs of Expofil and Texworld, which will take place from 9 to 13 February 2009. An addition of as little as 25 % TENCEL to a conventional cotton denim improves the environmental profile considerably. Replacing cotton with TENCEL reduces the area under cultivation for cotton by 25 %. The consumption of water, required to grow cotton, can also be reduced by 25 %.

Botanic Denim for ecoists
Jeans have to be the most popular article of clothing around the world. From toddlers to senior citizens – everyone has jeans in their wardrobe. According to estimates, 800 million pairs of jeans are produced around the world every year. This represents an enormous environmental impact if one thinks about the cultivation of cotton through to the production of the cult garment.

The addition of 25 % TENCEL to conventional cotton considerably improves the environmental profile of jeans. The advantage lies above all in the efficient use of land and the higher yield per hectare of TENCEL. This is multiple times higher than with conventional cotton. This is an important argument in a world in which the population is growing extremely quickly and land is becoming a rare commodity which competes with agricultural area.

Water consumption is another important ecological aspect. To be grown, conventional cotton needs up to 20 times more water than TENCEL does for its overall production including pulp production. A study by the University of Utrecht revealed that the environmental impact of cotton is enormous. In particular the toxic impact of cotton cultivation on fresh water and the soil is considerable and clearly contributes to global environmental pollution. The use of TENCEL, on the other hand, helps to reduce the impact on the soil and water.

Creating eco-compatible innovative products
For many years Lenzing has focused on sustainability dealing with this topic in various ways: performing studies of ecobalances, optimizing textile processes to reduce the consumption of water and energy and the use of chemicals and last but not least the recycling of textiles and their re-use. Together with partners in the textile industry, Lenzing is working on environmental solutions at all levels. Lenzing draws on the latest findings and best technology available for the production of eco-friendly jeans.

Optimized TENCEL jeans comprise a blended fabric made mainly of cotton with a smaller share of TENCEL. In the best possible case, the cotton share is organically grown. In denim production, as a rule the dyeing processes and the many, often, aggressive washing and finishing processes constitute a major environmental burden. One solution is the alternative dyeing process approved by GOTS and the Control Union which employs the pre-reduced synthetic indigo system and can be applied easily on TENCEL denim.

Washing trials with articles of clothing have shown that existing processes can be optimized in respect of chemical, water and energy consumption. TENCEL jeans allow an improvement in the typical washing processes which leads to a reduction in water consumption of 45 % and to a 35 % lower chemical load.