IPIC to expand strength of NOVA Chemicals in North America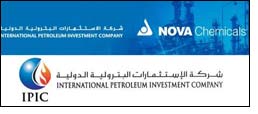 International Petroleum Investment Company and NOVA Chemicals Corporation announced that they have entered into an agreement providing for the acquisition by IPIC of all of NOVA Chemicals' outstanding common shares for a cash consideration of US$6.00 per Share.

The acquisition will be implemented by way of a court-approved plan of arrangement under the Canada Business Corporations Act.

The consideration per Share represents a 348% premium over the February 20, 2009 closing price of the Shares on the New York Stock Exchange and a 204% premium over the combined and currency-adjusted 30-day volume-weighted average price of the Shares on the Toronto Stock Exchange & NYSE up to and including February 20, 2009. The total value of the Arrangement, including assumption of NOVA Chemicals' net debt obligations, is approximately US$2.3 billion.

Based on a C$/US$ exchange rate of 1.2541,the cash consideration equates to C$7.52 per Share. The actual C$ equivalent cash consideration per Share will be based on the C$/US$ exchange rate at the time when the Arrangement is closed.

NOVA Chemicals' operations are geographically complementary, bringing together IPIC's existing petrochemicals capabilities in Europe, the Middle East and Asia and those of NOVA Chemicals which are primarily in North America.

The Arrangement is intended to enable NOVA Chemicals to meet all of its obligations to all of its stakeholders and will strengthen NOVA Chemicals' balance sheet so that its strong assets will continue to operate and expand. As part of the Arrangement, IPIC has agreed to a US$250 million credit backstop facility to provide NOVA Chemicals with sufficient liquidity.

Under the Arrangement, NOVA Chemicals will operate as an independent chemicals and plastics company. It will continue to invest substantially in its Alberta and Ontario operating facilities, and also in its large and very productive research and development facilities in Calgary, AB.

"This acquisition will provide enhanced balance sheet strength for NOVA Chemicals and facilitate NOVA Chemicals' growth internationally. We can provide stability and allow NOVA Chemicals to meet its operational and financial requirements while continuing to expand and invest in its business," stated Managing Director and Board Member, IPIC, H.E. Khadem Al Qubaisi. "We believe the cash consideration under the Arrangement is very attractive to NOVA Chemicals shareholders and that the Arrangement is a very positive development for NOVA Chemicals' employees and other stakeholders."

NOVA Chemicals will continue to manage its operations and set its business objectives from North America. IPIC appreciates the high quality of NOVA Chemicals management and looks forward to working with the senior management team for the continued success and long-term growth of the company. IPIC encourages significant management autonomy while being available at the Board level to provide strategic guidance and governance. IPIC has no plans to change the current operations of NOVA Chemicals, and the current President and COO, Mr. Chris Pappas is expected to remain with the company as Chief Executive Officer upon the previously announced retirement of Mr. Jeff Lipton on May 1, 2009.