Visitors, exhibitors welcome Interstoff (eco-friendly textile fair)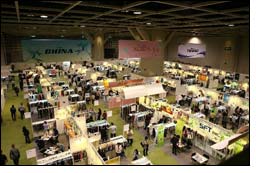 "The show exceeded our expectations. We met with a few potential customers and even met with some big brands who were interested in our eco solutions," said BASF, Global Manager Ms Katherine Chan.

Interstoff Asia Spring's reputation as an eco-friendly global sourcing platform is well on the road to becoming established, as was demonstrated by the high number of exhibitors displaying eco-fabrics (32% of total) on the fair. Among them were Ishinco and Teijin from Japan; SFT Inc and Chungnam Knit Co. Ltd from Korea; and Landegent Clothing Consultancy from the Netherlands.

Bluesign certified company, Everest Textile Co Ltd were pleased with their decision to participate at this year's spring fair. "Eco-textiles are gaining popularity within the consumer market and are becoming a major trend in the textile and clothing industry. Many leading brands and buying offices came to our booth to look for quality eco and functional fabrics," said Mr Roger C.L Yeh, President for the Taiwanese based textile manufacturer.

Value added events prove to be a success!
Another highlight this year included an exclusive opportunity to receive professional design and consultant services from some of Hong Kong's leading fashion designers at the Designer's Corner including Meiyi Cheung, Bonita Cheung, Florence Tang, Michael Lau, Kevin Yeung and Lucy Shih. The designers also highlighted their talent by making trend boards with exhibitor's fabrics as inspired from the Spring / Summer 2010 Directions trend forum.

Designer, Barney Cheng, who also participated this year, spoke on the vital importance of an eco themed textile trade fair in the region. "Eco friendliness is the way forward, not just for fashion but all industries who want to remain relevant and competitive in today's economy. Consumers are becoming more aware of sustainability and in turn are becoming more conscious in their fashion purchases."

Besides sourcing quality eco-textiles and functional fabrics, a series of seminar programmes were offered that provided green business solutions to textile and garment manufacturers and industry buyers, which focused on strategies dealing with the current global economic challenges at the Eco Textile Asia Panel Discussion, an event co organised with EcoTextile News from the UK.

"Interstoff is a very good platform to host panel discussions on sustainability, especially during these economically tough times," noted Mr Harsha Vardhan Global Environment Coordinator from Hennes & Mauritz. "It gives us, the brands, an opportunity to directly communicate with the industry leaders in the region and reconfirm our commitment towards sustainable principles."

Mr Sean Cady, Director Environment, Health & Safety, Social & Environmental Sustainability for Levi Strauss & Co shared Mr Vardhan's sentiments. "Trade platforms such as Interstoff Asia provide an opportunity for Levi Strauss & Co. to share our work with industry leaders and benefit from the strong support of industry colleagues."