DOMOTEX asia/CHINAFLOOR conclude successfully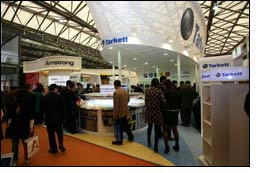 The three-day event of DOMOTEX asia/CHINAFLOOR 2009 has successfully concluded in Shanghai New International Expo Center on March 26, 2009.

This year's exhibition occupied eight halls plus and outdoor area with total gross space of 89,125 square meters and attracted 909 flooring companies from 38 countries show casing their latest products and solutions. During three days from March 24-26, the show welcomed a total of 36,986 professional visitors from China and abroad.

Mining Opportunities in Crisis
As the biggest professional flooring show in Asia coming out of the haze of the 2008 economic crisis this year, DOMOTEX asia/CHINAFLOOR has inevitably become the center of attention in the world flooring industry. It is important to face the challenges well-prepared. Many international brands are very positive about China and the Asia Pacific market, and use DOMOTEX asia/CHINAFLOOR as a strategic platform.

Armstrong launched its laminated and engineered wood floor in the Chinese residential market for the very first time. Nora, leader of the rubber flooring, made its appearance again with the new complete series of rubber flooring products after three years, and launched its 2009 products portfolio during the exhibition in order to secure its market share in the commercial market. Many domestic companies have focused their promotional efforts through DOMOTEX asia/CHINAFLOOR covering Asia region.

Resilient flooring section saw significant growth this year. Domestic and international brands such as Tarkett, Armstrong, Gerflor, Grabo, Mondo, Vertex, SERFLEKS, FIELOTURF TARKETT SAS, Win Ton, Jiu Hong were present at the scene, making the show the best procurement platform for the commercial real state and project contract businesses in Asia.

This year's parquet & laminate section gathered all the brand names in the industry. Domestic leaders, such as World of Friends, Lulin, Fudeli, Anrantabu, Sterling Pacific, Yan Kanon, New Sihe, Sino-Maple, Kanglong, A & W, Jiusheng, Plantation, Jilin Forestry Jinqiao, Yihua, Yongyu, Kentierwood, were all present at the exhibition.

Famous international carpeting brands such as Milliken, Beaulieu, Balta, Mannington, NOURISON, Oriental Weavers, Al-Sorayai, Shanhua, etc. once again gathered together at the scene and displayed their latest products. Floortech Asia, having had fully extended itself based on the traditional flooring sector, displayed the front-end products from manufacturing and processing equipment, raw materials to laytech and protech technologies for after-sales market.

So far, DOMOTEX Asia/CHINAFLOOR has essentially become the platform for providing product and service solutions to every aspect of the "life-cycle" of the entire flooring industry. It is without a doubt that DOMOTEX asia/CHINAFLOOR will again lead for the development trend and technological innovation in the whole flooring industry from A to Z.

The"Anji Bamboo Flooring Image Hall" by Anji County of Zhejiang Province, located outside of E3, was extremely eye-catching. Taken lead by the local government, the Image Hall gathered 18 of the leading bamboo flooring manufacturers from Anji which named as "The Bamboo City of China". On recall of the government's policy to support energy saving and environmental protection, the Chinese bamboo flooring companies are expecting that this environmental friendly flooring material would will create more opportunities in the global flooring market.