Glenoit makes comeback with Concept III support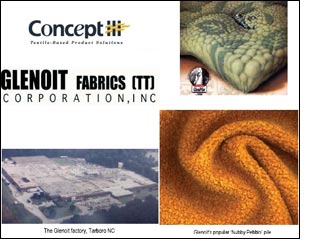 Never having given up on its premium North Carolina sliver knit supplier, Glenoit, Concept III Textiles now proudly heralds its return to American ownership. Purchased by Shanghai-based rival Haixin in 2002 after bankruptcy reorganization, Glenoit had since suffered a lost market share and reduction in output – nearly becoming another American textile industry casualty. Glenoit essentially 'bought itself back' as of April 1.

Support from Concept III
Together, Concept III and Glenoit introduced the GlenPile line of performance piles and Berbers to the outdoor and outerwear markets with great fanfare in the mid-90's. Though hugely popular for a time, ultimately "markets taken for granted, changes in sourcing trends and management by afar [from New York], caused a precipitous drop in sales," explains Bill Trienekens, COO of HG U.S.A, Haixin's holding company.

As firm believers in the quality and performance of Glenoit's products, however, the Concept III staff has continued to supply a significant percentage of Glenoit's orders through thick and thin. "Glenoit's sherpas and Berbers have always been applicable especially to the outdoor industry," says David Parkes, Concept III president.

Having been associated with sliver knit production throughout his career, Parkes knows well the features and benefits of piles. "Their high clo value, easy care and appealing textures and aesthetics cannot be duplicated by other fabrics." Parkes says Concept III "is ecstatic" about the recent changes at the company.

Saved by Employees
With dwindling sales, in September of 2005 the remaining 126 Glenoit employees (1,100 at one time) were called together for the announcement that the plant would soon close.

Plant manager and 39 year Glenoit veteran, Jerry Howard, dug in his heels. Convinced they could do a better job of handling personnel, cost efficiencies and production deadlines, he and his staff, aided by Trienekens and the business community, formed Tarboro Textiles to provide contract labor for Glenoit, and guarantee ontime deliveries.

A new way of doing things
With efficiencies in place and after helping Glenoit make its first profit in years in 2007, Tarboro Textiles proved the validity of the changes they advocated. Once a mass producer of generic mass merchandise easily 'knocked off' at a lower price (including parent Haixin) Glenoit stopped offering open line basics, instead, concentrating solely on customer specific products - individualized fabrics that let customers set themselves apart from competitors. This specialization along with Tarboro's better workflow set the company on a 'customer first' solid, service/innovation/value-driven path.

Close-to-home sourcing of both raw materials and sewing has become more important recently to brand manufacturers who are now less able to project more than six months out for their orders. The new efficiency at Glenoit now allowed for a tighter production window.