Impressive turn in cotton market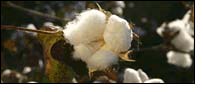 NY futures continued to rally this week, with December advancing 326 points to close at 64.18 cents.

The market is on a very impressive run, having closed up 11 sessions in a row and 14 out of the last 15 sessions for a gain of 671 points. According to some sources we have to go back over 30 years to find a similar winning streak.

It was probably a combination of factors that has led to this strong showing, including a slightly tightening balance sheet, weather concerns, strong outside markets, a weakening US dollar and a lack of US new crop cotton to hedge against.

Last Friday the USDA gave us its latest set of supply and demand numbers. Even though there were no dramatic changes, the USDA numbers show a trend of increasing production gaps over the last few years. In 2005/06, we had world production and consumption about even, in 2006/07 there was a production deficit of one million bales and in 2007/08 there was another shortfall of 2.3 million bales. Then last season we saw a somewhat bigger production deficit of 4.0 million bales and in the current season we have a projected gap of about 7.7 million.

If we look at the USA numbers from a different perspective and separate the US and the rest of the world, we notice a foreign production gap of 17.6 million bales, which ranks right along the three highest such gaps ever. Only in 2005 and 2006 were they a little bigger at 17.8 million bales each, but back then the US crop was substantially bigger. In 2005 the US produced 23.9 million bales and in 2006 the US crop was 21.6 million bales, and the seasonal surplus (US crop less mill use) was still at 18.0 million and 16.6 million bales, respectively.

In the current season we are looking at a seasonal surplus of just 9.9 million bales, which means that even after the US exports its surplus, the rest of the world will still be about 8 million bales short, which has to be taken from stocks. Unless these USDA numbers prove to be wrong, this scenario is quite supportive of prices and it could turn outright bullish if something were to go wrong at harvest.

This brings us to the weather! For several days now the Delta has received widespread rain from a stalled out low-pressure system and there seems to be no end in sight. There is a 40-70% chance of rain for the next five days and the longer-range models have more rain forecast for the end of the month/early October. The fear is that an already late crop will be delayed even further. This of course raises concerns in regards to both yield and quality. What started with a poor quality crop in South Texas seems to continue in the Delta.

The strong technical performance of the last three weeks, along with the rally in the world's stock markets and a more positive economic outlook, has encouraged speculators to get back in on the long side. During this rally which started on August 27, volume has been stronger than in the weeks before and open interest has increased by over 15'000 contracts to 138'380 contracts. It is hard to argue with the chart and the momentum in the market at the moment and as we have learned on previous occasions, it may not be wise to stand in the way of a bullish freight train unless shorting serves a particular purpose and potential margin calls on these shorts don't pose a cash-flow problem.