Tissue culture technique increase abaca production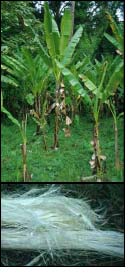 A 150-percent increase in disease-free abaca plantlets was recorded from tissue culture technique while 114 kilograms of dried fibers per day are produced by a portable stripping machine introduced to abaca farmers.

This was according to a team of researchers led by Dr. Ruben M. Gapasin of the National Abaca Research Center (NARC) as he presented the NARC-developed production and post-harvest technologies during the recently concluded National Conference on Natural Fibers held at Dusit Thani Hotel, Makati City. He explained that with tissue culture techniques, or the growing and propagation of plant cells, tissues, and organs on an artificial medium under sterile and controlled environment, 124,518 virus-free abaca plantlets were produced from 500 suckers. Tissue-cultured plantlets are pegged at P4.50 each while plantlets from conventional breeding method sell at P8 to P10 apiece.

In his report, abaca (Musa textilis Nee) or Manila hemp, a fiber crop indigenous to the Philippines, as a main source of strong natural fibers for domestic and international markets, brings an annual US$80.6 million to the country. With the spread of two main viruses, abaca mosaic and abaca bunchy top, that inhibit growth, weaken the fibers, and result in profit loss among small abaca farmers, NARC thought of applying tissue culture techniques to produce thousands of identical and virus-free abaca plantlets in less than a year from a small tissue of healthy plant.

"This means great saving in maintenance cost and growing space, shipment is cheaper and easier with reduced plant weight and size, and mishandling and dehydration of planting materials are minimized. Cheaper and quality seedlings can be made available through contract growing which will provide additional source of income to the farmers," Dr. Gapasin added.

Equally important as production technology is that of post-harvest, where abaca portable stripping machine was introduced but was poorly received by the farmers. NARC attributed the slow adoption of fiber stripping mechanization to the farmers' disinterest in existing stripping machine, a 700-kilogram fixed-type equipment worth P150,000. The portable machine, however, weighs 93 kilograms including the 2.6 kW (3.5 Hp) gas engine and can process 114 kilograms of dried fiber per day. This machine requires 5 liters of gasoline for every 100 kilograms of dried fiber, records an average fiber recovery of 1.67 percent, and costs P45,000.

Dr. Gapasin presented the paper titled "Production and Post-harvest Technologies at NARC, Visayas State University in Leyte" before fiber stakeholders who participated in the conference organized by the Philippine Textile Research Institute and the Philippine Council for Industry and Energy Research and Development, both agencies of the Department of Science and Technology, in celebration of 2009 as International Year of Natural Fibers. The latest technology developments and innovationsin natural fiber production, processing and utilization were showcased as fiber stakeholders discussed the current and future trends of Philippine natural fibers in response to global challenges.