Textile industry to be ready for AC-FTA & global demand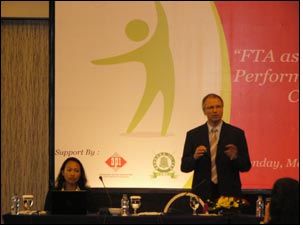 The ASEAN-China Free trade agreement (AC-FTA) has become the most challenging issue in recent times in Indonesia, especially for the textile industry. This challenging issue is aggravated by a lack of information which inhibits the textile industry's awareness of the necessity to become well prepared for the liberalization of global trade. The government's role to provide protection and support for the industry to face this situation is urgently needed to keep the market balance and help the most impacted sectors to survive.

Due to this situation, TESTEX AG, as the official representative testing institute for Oeko-Tex Standard 100 certification in Indonesia, would like to encourage all enterprises of the textile industry to face the ACFTA, by providing valuable information, opportunity for exchange and key tools to support competi-tiveness by assembling representatives from industry, government, textile association and buyers in one event. For this purpose, the 2nd seminar titled "Making Use of the World Trade Liberalization - FTA as a Chance to Enhance Performance of Company and Certification to Support Competitiveness" was organized on March 15, 2010 at Aston Primera Hotel in Bandung.

This seminar was held with the collaboration between TESTEX and www.Indotextiles.com, one of the textile websites which provide compact information for the Indonesian textile industry, and was supported by the Indonesian Textile As-sociation Region West Java (API Jabar), the national organization for textile manufactures and enter-prises, and Bandung Intertex 2010. The invitation was accepted by more than 130 people who showed great interest in the event. The seminar was opened by Ms. Titi Susanti, the TESTEX Representative Office Manager (Jakarta), and included presentations by the respective guest speakers.

To provide complete information regarding FTA, TESTEX invited government representative Ms. Nus Nuzulia Ishak, Head of National Export Development Body (PPEI), to present "Government' Strategy to Open Market Chance for Textile Industry in the World Trade Liberalization". This presentation triggered most of the audience's attention to seek more opportunity and valuable information to support their marketing plan.

With the Government's effort to provide support with the FTA issue, the textile indus-try will be more optimistic to open up new markets and more reassured to maximize existing markets. For complete information regarding FTA, the Head of the Indonesian Textile Association Region West Java, Mr. Ade Sudrajat, held a presentation entitled "The Raise of Industrialization" which provided information and statistical data on the Indonesian textile industry in recent times. This presentation also encourages all companies of the textile industry to be well prepared and enhances company performance to face the liberalization of world trade.

As FTA means high competition in every industrial sector, not only in textiles, enhancing every company's potential becomes an urgent necessity in order to survive or even be competitive in new and existing markets. For the textile industry, one of the key tools to be well prepared is to match production with global demand and issues which buyer and customer really need.