Revenues grow by 24.6% at Pacific Textile Holding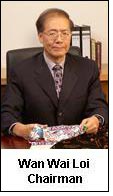 Wan Wai Loi, Chairman of Pacific Textiles Holdings Ltd presents the annual report of the Company for the year ended 31 March 2010.

The global financial crisis and economic downturn, our Group has delivered impressive results for the 2010 Financial Year. We delivered on our financial commitments and continued to pursue new long term growth opportunities while reducing costs. The Group's ability to lead such a significant performance, particularly in challenging times, is a testament to its capabilities and excellence.

Economic Overview and Financial Performance
The global economy was overshadowed by continued instability and uncertainty in the beginning of 2009, when we started the financial year under review. Amidst intensified liquidity issues and credit crunch, we saw stabilisation programs which included drastic macroeconomic measures together with massive easing policies implemented by governments around the world.

Although by mid 2009, the global economy started to pull out of the recession and there were tentative signs of gradual stabilisation and improvements, a sustained recover y was still very much in question. Against this economic backdrop, the Group managed to strengthen its core competencies and achieved growths in revenue and sales volume, thanks to the Group's sound financial position and operational efficiency in times of difficulties.

The Group's gross profit for the year and the net profit attributable to equity holders amounted to HK$1,221.8 million and HK$803.2 million respectively. Earnings per share was HK$0.56, compared to HK$0.26 in the previous financial year, representing an increase of 115.4%.

During the 2010 Financial Year, our overall capacity increased slightly over 10% year-on-year. Sales volume of the Group reached 195.8 million pounds, a growth of 24.6% compared to 157.2 million pounds in the previous year.

The Board of Directors has proposed a final dividend of HK17 cents per share. Together with an interim dividend of HK13 cents per share paid on 8 January 2010 and a special dividend of HK 22 cents per share paid on 25 February 2010, the total dividends for the financial year will be HK52 cents per share.

Business Overview
In the 2010 Financial Year, we continued to see the textile industry going through waves of consolidation, as industry participants faced stiff competition in a still unfavorable economic environment. With the Group's sound financial position, we were able to leverage on our core competency to achieve substantial growth.

As the economic climate of US and EU markets remained sluggish, we continued the process of geographic diversification by focusing on market expansion opportunities in Japan and China, while maintaining strong relationships with our existing customers. Growth in sales volume to the Japanese market was very satisfactory. On China's domestic market front, the Group is also making good progress through our active pursuit in sales expansion and market penetration. We will continue to increase our efforts to tap into the fast-growing Chinese market.