Healthy start to the financial year, S Kumars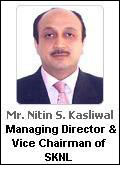 Textile and apparel major S Kumars Nationwide Limited (SKNL), has recorded net sales of Rs. 11,911.5 Mn (Rs 7,109.6 Mn), an increase of 67.5%.

Earnings before Interest, Depreciation, Taxes and Amortization (EBIDTA) increased by 39.3% to Rs. 2,255.1 Mn (Rs. 1,619.2 Mn). Net profit (before minority interest) was up 25% to Rs. 771.9 Mn (Rs. 617.5 Mn). Net Profit after minority interest was at Rs. 627.1 Mn.

One of the highlights of the performance in the quarter is the contribution of international businesses to the total revenue. At Rs. 3,290.4 Mn, international business contributed about 28% of the total sales for the quarter. The International business has turned EBITDA positive and has contributed 8% to the overall EBITDA of the Company

Other operational highlights:
• In the domestic market, Belmonte and Reid & Taylor were key drivers for overall revenue andearnings growth
• Initiatives taken at strengthening the distribution network in both Tier 1 & 2 cities opening upof more Exclusive Brand Outlets and Multi Brand Outlets drive the performance for Reid &Taylor in its segment
• "World Player" - brand catering to the economy segment, introduced in South India
• There has been volume improvement in key SBUs like Consumer Textiles, Luxury Textiles, andTotal Wardrobe Solutions (TWS)
• The joint venture with DKNY for the global menswear licence of the DKNY brand is expected tocontribute to revenues in the coming quarters.
• The Baruche Superfine Cottons - 12.75 million meters per annum state-of-the-art HVFC facilityhas started delivering results as the operations stabilized during the quarter.

Commenting on the performance for Q1 FY 2011 Mr. Nitin S. Kasliwal, Managing Director and Vice Chairman of SKNL said,

"I am happy to announce that all our SBUs including international businesses have made a healthy start to the financial year. A clear focus on catering to all economic strata of society, delivering in accordance with the current market trends and making strategic acquisitions globally has reinforced our market position as a global player in the Branded Apparel Segment and in-turn contributed substantially to our top-line and bottom-line.

Our Consumer Textiles, Luxury Textiles and Total Wardrobe Solutions segments continue to contribute substantially to revenues. We have launched a new brand "World Player" in the economy segment of the Ready-to-Wear market, in South India and it has been very well received. We expect volumes to improve and eventually margins for this brand, as we spread across India. We also plan to launch "Kruger" in the Casual Premium segment, towards the end of this financial year.

Having made strategic international acquisitions, we are now focusing on capitalizing and deriving value from the back-end and front-end synergies. Our International business has turned EBITDA positive and we expect greater contributions in the coming quarters.