CM of HP lays foundation stone of First Textile Park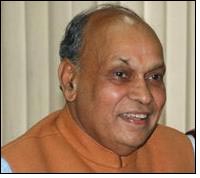 Prof. Prem Kumar Dhumal, Chief Minister, laid foundation stone of the First Himachal Textile Park at village Thatthal in Amb Sub-Division of district Una, entailing an investment of over Rs. 350 crore and generates direct and indirect employment to over 12,000 people in the park besides giving boost to various economic activities in the area.

Addressing the foundation stone laying ceremony, Chief Minister said that the State had best industrial friendly environment where ecological safeguards were prerequisites for industrial growth. He said that best basic amenities, uninterrupted power supply, land, water and other essential ingredients were conveniently being made available to the entrepreneurs. He appreciated the initiative of the Jindal Cotex Limited, developer of the Textile Park for incorporating housing provision for its workers which would benefit the Park immensely with efficient functioning of the work force.

He said that 70 percent employment condition to local people was mandatory and the state government would appreciate cent percent employment to local people in the industrial units. He assured the entrepreneurs of all possible help from the State Government in carrying forward with their industrial activities.

Prof. Dhumal said that the State would welcome industry which was environment friendly, based upon local raw material and generate employment to the local people at large. He said that the state was environmentally conscious and would not permit any damage to the same through anti-environment industrial activities.

He said that the State had emerged a favourite destination for safe industrial investment keeping in view the best law and order conditions prevalent here, besides all basic amenities, incentives and industrial friendly environment. He welcomed the Jindal Contex Limited to the State and thanked it for setting up of first Textile Park in the State which would go a long way in giving boost to the industrial activities and motivate other entrepreneurs to follow their footsteps in making investments here.

Chief Minister said that the State had targeted 10,000 MW of hydel power by 2012, 15,000 MW by 2017 and exploitation of entire identified 23,000 MW hydel potential by year 2020.

He said that the State Government had enhanced the daily wages by Rs. 34 in last two years which was a record increase in the history of the State. He said that the state government would ensure payment of minimum wages to the workers by industrial sector as well and protect the interests of workers. He took exception to some reports of pollution creation by some of the industrial units in the area and advised them to incorporate pollution prevention implements in the plant machinery.

Prof. Dhumal said that the industrial investment flow to the state had not stopped even after the premature withdrawal of Special Industrial Package announced by the then Prime Minister of India Shri Atal Behari Vajpayee, which had never happened in the history of the country.