ROJ upgrades production with SIPLACE SX machines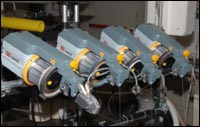 Italy's ROJ Srl, a manufacturer of weft feeders, sensors and control units for modern weaving machines, has selected the new SIPLACE SX platform to streamline its production of electronic modules. The company, which is known for its lean manufacturing concepts, manufactures lot sizes ranging from 50 to 10,000 units.

ROJ uses the SMT capacities at its Biella location for the build-to-order production of its world-famous weft feeders with their highly sensitive sensor technology as well as for the contract manufacture of industrial automation electronics. In a systematic selection process, SIPLACE prevailed against competitive equipment in all critical categories such as performance per square meter, feeder capacity, actual placement speed for ROJ-supplied sample products, high-mix setup concepts and handling flexibility for exotic and odd-shaped components.

Since the beginning of this summer, Italy's ROJ Srl, a subsidiary of globally active textile machine maker van de Wiele Group, manufactures its electronic assemblies on SIPLACE SX placement machines.

The two new SIPLACE SX2 machines form the company's third production line; one machine is equipped with two SIPLACE CPP Multistar placement heads, while the other machine has one SIPLACE CPP Multistar and one SIPLACE TwinHead. This configuration provides the ability to process a wide range of products quickly and flexibly, which is one of the major features of the SIPLACE SX platform, since there is a production requirement of approx. 150 different products with lot sizes ranging from 50 to 10,000 units.

"Flexible and lean manufacturing is our key to success. When it comes to lot sizes, the customer's needs must always take precedence over your own production setup," says Domenico Fioravera, production manager at ROJ, about his company's manufacturing philosophy. This concept has made ROJ very successful beyond supplying various sister companies in the van de Wiele Group as indicated by the rising number of engineering and production orders from the industrial automation industry.

Intensive benchmarking of various suppliers
The expansion of ROJ's manufacturing capacities had been made necessary by the company's booming textile machinery business in Asia. In autumn 2009, the team around Domenico Fioravera started to contact the relevant placement machine manufacturers.

Once the list had been whittled down to three candidates, the company conducted a systematic benchmarking of vital criteria such as performance per square meter of floor space, agility of motors and axes, feeder capacities, no-stop feeder replacement, placement performance, setup strategy options, board sizes, placement accuracy and component spectrum. The SIPLACE SX prevailed in all relevant points and impressed the customer particularly with its expanded capacity for state-of-the-art X-feeders in combination with the SIPLACE waffle pack changer, its leading performancein populating four sample boards supplied by ROJ, and its accuracy and flexibility in placing BGAs, 01005 components and odd shapes.