Comforel Bath Rug Fibers bags EPP certification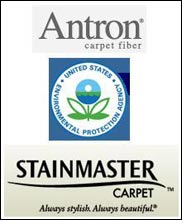 INVISTA S.à r.l., global manufacturer of polymers and fibers including STAINMASTER and ANTRON carpet fibers, was granted Environmentally Preferable Product (EPP) certification for its Comforel bath rug fibers under the expanded standard by Scientific Certification Systems (SCS), a recognized third-party expert in environmental certification.

EPP certification is important to INVISTA and to its customers because such products are defined by U.S. Executive Order 13101 (replaced by EO 13423) as products that have a lesser or reduced effect on the environment when compared to competitive products that serve the same purpose.

Jorge Vizcaya, business manager for rugs for INVISTA's Performance Surfaces & Materials business said, "The implementation of our proprietary Macro Bulk Technology has resulted in significant improvements in energy efficiency by increasing the bulk of a yarn bundle providing the same coverage and tactile appearance at lower weights. By reducing the amount of fiber required to make bath rugs, manufacturers can produce them using fewer resources, which SCS has now confirmed, benefits the environment."

SCS president Stanley Rhodes, PhD, supported Vizcaya by saying, "Without compromising quality, bath rugs made with INVISTA's material now require significantly less fiber. Compared to INVISTA's historically produced fiber, the fiber utilizing Macro Bulk Technology demonstrates an environmental benefit and qualifies as an Environmentally Preferable Product. Specifically, the nylon 6,6 bath rug fibers made by INVISTA have reduced impacts in global greenhouse gas loading, non-renewable energy resource depletion, oceanic acidification, ground level ozone exposure and particulate matter exposure."

The EPP certification, performed under the recently revised Standard SCS-002, is a complex evaluation using advanced life cycle analysis (LCA) metrics that quantifies the human health and environmental impacts associated with a product across the product life cycle. To achieve EPP certification status, products must demonstrate reduced impact compared to a reference baseline. For Comforel bath rug fiber, the SCS Environmentally Preferable Product evaluation used a baseline of INVISTA's historic production, which was determined from data provided by INVISTA for the manufacture of unbulked fiber in 2004.

INVISTA believes that the EPP certification can help to provide consumers with added confidence that the environmental impact of products, like INVISTA bath rug fibers, have been assessed and certification has been granted only to those products that can prove a reduced environmental impact.

Derek Young, sustainability director for INVISTA Performance Surfaces & Materials, concluded, "We are pleased that SCS has awarded us with this very credible certification now for our Comforel bath rug fibers. This is the latest of EPP certifications by SCS to INVISTA. ANTRON carpet fibers have been certified by SCS as an EPP multiple times since 2002, including most recently in November 2009, when both ANTRON and STAINMASTER carpet fibers received EPP certification under the expanded SCS criteria as well. We are proud of the progress we're continuing to make, and will continue to pursue initiatives toward our goal in four key areas: Enduring Materials, Sustainable Performance, Responsible Manufacturing, and Corporate Citizenship."

INVISTA S.à r.l.