Trützschler carding technology for Thanh Cong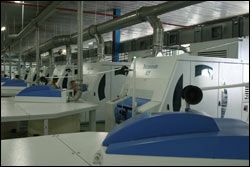 The backing of Korea's largest fashion retail group has boosted the fortunes of Vietnam's Thanh Cong, including investment in the latest Trützschler carding technology

As Spinning Director of the Thanh Cong Group, Boo Young Bo's relationship with German machine builder Trützschler goes back a long way.

In fact, as a technical engineer, Mr Boo trained on cards at Trützschler's HQ in Mönchengladbach in Germany almost 30 years ago and has subsequently handled Trützschler machines at plants around the world.

Not surprisingly then, the 60,000 spindles at Thanh Cong Group's fourth spinning mill situated close to Ho Chi Minh City are all fed by Trützschler machines.

"There is no disputing that Trützschler has continued over the years to improve both the productivity of its cards and the quality of the fibre that can be obtained from them," says Mr Boo.
With annual sales of over US$65 million in 2009 – up by 10% on 2008 – Thanh Cong Group is unusual for a privately-owned company in Vietnam, in being a highly vertically-integrated textile operation, as well as a retail trader.

This is explained by its origins as a state-owned enterprise which was founded in 1970 and was then initially floated on the stock exchange in 2007.

But the company floundered for a while after privatisation, and during 2009, E-Land – Korea's number one fashion retail company – became its majority shareholder.

E-Land now plays an active part in Thang Cong's management, providing further vertical integration and opportunities for many new customers, in addition to financial stability and a solid investment programme.

Guidance from the Korean group has certainly been decisive – not only did Thanh Cong increase its turnover in 2009, net income climbed from VMD 5 billion in 2008 to VMD 47 billion in 2009.

In addition to an annual yarn output of 20,000 tons, Thanh Cong produces seven million metres of woven fabric and 7,000 tons of knitted cloth on 74 circular knitting machines. It also dyes and finished approximately 18 million metres of material and its garment manufacturing operation – with 4,100 sewing machines – produces around 15 million garments per year, for brands far too numerous to mention, but including many top retailers in both Asia and the USA and Europe. Around 70% of the company's production is exported.

Thanh Cong's fourth spinning mill, which is just over a year old, having started-up in March 2009, is equipped with 60,000 spindles, with separate blow room sections for cotton and viscose production.

These include Trützschler Blendomat bale openers, engineered to achieve both high production rates and gentle operation prior to the cleaning process, and versatile SP-MF multifunctional separators - taking care of heavy parts separation, metal detection and separation, fire control with spark detection, separation and extinguishing, dedusting and the re-feeding of opened sliver waste. All were ordered through local agent Tri-Union Management Co Ltd.